There's been a model in retirement planning that I think is been unquestioned for many years and is broken.  That model is that you spend your life, your working years, in the accumulation phase and then once you retire you enter the distribution phase. Graphically it looks something like this:
However, the risk in that model is that you distribute what you've accumulated before your time is up and you outlive your money. There is an alternative way to think about this that most financial advisors don't recommend. The model I'm about to show you is not recommended by financial advisors for two reasons:
many do not have a fresh thought in their head and simply repeat what they've heard from others
they are sales people and not advisors and relegated to sell only what they have available from their firms and allowed by the licenses they have and their knowledge
The model that has you much less likely to run out of money is to think of accumulation and distribution occurring simultaneously. Specifically, you continue to accumulate funds during retirement years as you distribute them. So rather than rely on money that was accumulated in the past, you continue to accumulate fresh funds from current sources:
The major problem with the old-style thinking is that you place money in "safe" investments which get ravaged by inflation and tax. An example would be CDs at the bank:

Current rate on 5 year CD:
| | |
| --- | --- |
| Everbank (10/1/13) | 2.01% |
| Taxes (30%) | .60 |
| Loss of Purchasing Power | 1.50 (CPI last 12 months) |
| Net Return | 0.09% |
Relying on this type of money that had been accumulated in prior years increases the probability of burning through it. But if we rely on money that's being generated currently, those funds will keep up with inflation. Such funds would come from
businesses that you own (that you create or say a franchise)
businesses that you invest in (cash return in the form of dividends)
real estate that you own outright
real estate you own as a passive investor with others
hard money real estate loans, the interest rate on which reflects the current inflationary environment
By having your investments continue to participate in the current economy in which you live, you earn dollars that keep pace with the dollars you're spending. The old model has you using dollars which may not keep pace with the dollars currently spent.
The reason financial advisors don't think this way is they cannot make money from helping you invest in a business or buy a franchise although they certainly can encourage you to buy dividend paying stocks and many do.  Of course, your insurance agent, who does not sell stocks, will not make such a recommendation as he is not a financial advisor (although may want to position himself as such). You will never have advisors recommend that you invest in hard money mortgages because they don't deal in this.  Similarly, they will never tell you to invest in direct ownership of real estate because that would drain money from the mutual funds, stocks, bonds, ETF's and other assorted items they want to sell you.
In utilizing this model of generating fresh money from current sources, keep in mind the limitations of the professionals you use as they are hemmed in by rules and regulations and the licenses they hold as well as their limited knowledge. This simply means you may need to consult with three or four individuals, each having expertise in their respective areas to help build a current stream of continuous income.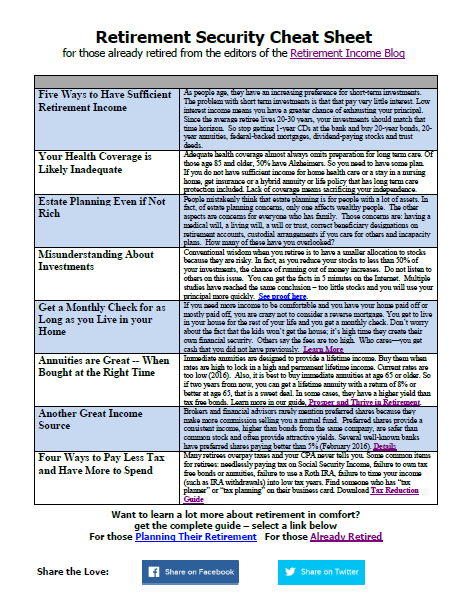 How to Prosper and Thrive In Retirement
For those already retired seeking to improve their finances
The 4 most important issues for any retiree and a quick plan to address each
The overlooked annuitization of assets to make your money go farther and reduce risk
An easy way to save money on health coverage
You don't need to be rich to plan your estate like this
A few simple lessons can reduce stress and bring more joy in your retirement year. Stop worrying and learn the simple
actions to take.