Do you wonder how much you might receive in Social Security?
Rather than use the generic social security retirement calculators on the web, you can get the most accurate calculation directly from Social Security. In a minute, I will show you how.
The calculations from Social Security take into account your personal earnings record and thus provide the best estimate of your benefits.

Social Security Income
Social Security benefits are based on a sliding scale depending on
your income,
how long you work and
at what age you retire.
Social Security benefits automatically increase each year based on increases in the Consumer Price Index.
Including a spouse increases your Social Security benefits by 1.5 times your individual estimated benefit. Please note that the Social Security Retirement Calculator that we recommend assumes that only one of the spouses work. Benefits could be different if your spouse worked and earned a benefit higher than one half of your benefit. If you are a married couple, and both spouses work, you may need to run the calculation twice - once for each spouse and their respective income.
See My Social Security Benefit Statement
Once you review the above article on how to read a Social Security benefits statement you can order your own here.  This benefit statement provides you a personalized calculation based on your actual earnings.  No other calculator anywhere can incorporate your actual earnings history.
Want to know six ways to increase your Social Security Benefit? Get your "cheat sheet" here.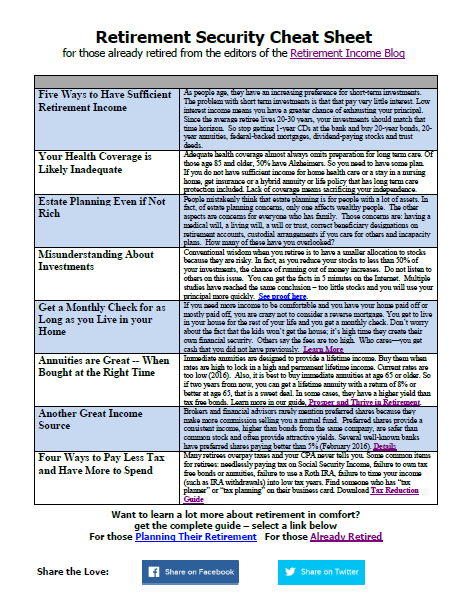 How to Prosper and Thrive In Retirement
For those already retired seeking to improve their finances
The 4 most important issues for any retiree and a quick plan to address each
The overlooked annuitization of assets to make your money go farther and reduce risk
An easy way to save money on health coverage
You don't need to be rich to plan your estate like this
A few simple lessons can reduce stress and bring more joy in your retirement year. Stop worrying and learn the simple
actions to take.