Retirement is not just about the size of your nest egg.  There are several considerations for a comfortable senior citizen retirement experience in addition to a financial retirement plan.  These considerations extend to where you live, housing options and healthcare quality and choices.  Most importantly, what activities will you do in retirement to stay mentally and physically fit?  Here's a short list of considerations to add to your retirement checklist.
Healthcare Needs for a Healthy Senior Citizen Retirement Experience
1.      Do you have senior health insurance that will cover catastrophes?

2.      Do you live in proximity to medical specialists you may need to consult?
3.      Is your HMO or health plan available where you plan to have a second home or move?
4.      If you plan to travel outside of the US, does your health plan cover you?
5.      Do you have long-term care insurance (don't make the mistake of thinking that Medicare pays)
Senior Citizen Retirement and Moving Your Residence
1.      What are the tax rates in the new community—property taxes state income taxes, state sales tax and do they tax retirement income and social security income differently than other income?
2.      If you reach and age where you cannot drive, will the public transit take you to your favorite places?
3.      Is the climate satisfactory in all months?  How about allergy months (e.g. spring time)
4.      Is there an adequate selection of senior housing complexes, assisted living facilitie4s and nursing homes and what is the cost
5.      Is there an active population of retirees in the new area and people you can befriend
Senior Citizen Retirement income
1.      Does one spouse have a pension that ends upon death?  Your retirement consultant can show you how to possibly replace that income
2.      If both spouses are eligible for Social Security income, there may be ways to maximize the benefit—check with a retirement planner
Fortunately, a senior citizen retiring in 2008 and beyond gains the benefit of technology when phone, computers and medical technology allow you to get much of the retirement help you need no matter where you reside.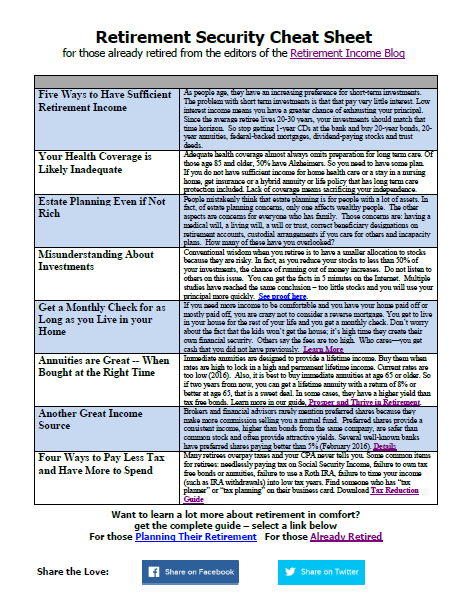 How to Prosper and Thrive In Retirement
For those already retired seeking to improve their finances
The 4 most important issues for any retiree and a quick plan to address each
The overlooked annuitization of assets to make your money go farther and reduce risk
An easy way to save money on health coverage
You don't need to be rich to plan your estate like this
A few simple lessons can reduce stress and bring more joy in your retirement year. Stop worrying and learn the simple
actions to take.