The interest-only mortgage time bomb is set to go off for many people when they retire and could cause considerable damage to many people's finances unless action is taken to defuse it.
What is the interest-only mortgage time bomb?
During the last housing boom, which came to an abrupt end at the end start of the financial crisis in 2007 and 2008, many people took out an interest-only mortgage.
The same happened in the 1980's and 1990's but then a repayment vehicle, such as an Endowment, a Personal Equity Plan (PEP) or an Individual Savings Account (ISA) were also taken out, monthly premiums paid, and a lump sum of money built up to repay the mortgage.

However, many of these repayment vehicles were cashed in and never replaced, furthermore, since the turn of the millennium; many people took out interest-only mortgages without putting a repayment vehicle in place, as it was the only way for them to be able to afford the house they wanted.
The net result?
Thousands, possibly millions, of people who will not have their mortgage repaid before they retire, which will cause financial hardship for many and possibly delay retirement for some.
What can be done?
If you are one of those people with an interest-only mortgage and no plan in place to repay it, there are things you can do, but you need to take action now.
1. Sell up and buy a smaller property using what equity you do have in your home, in other words, downsize.  Admittedly this isn't an option open to all, especially those with little or no equity, but if it is possible you should consider it
2. If you have other savings or investments, then use these to repay all or part of the debt. Although, if you do have other funds you will probably have already thought of this option!
3. If you are at, or close to retirement, then consider using the tax free lump sum from your pension to repay all or part of your mortgage. Of course this option will give you a lower income in retirement, although this should be offset, to some degree, by the fact you will not be making mortgage payments
4. Move the mortgage onto a capital repayment basis, perhaps after repaying a lump sum, as mentioned above, which might make this option more affordable. If this is your desired route you could, perhaps, work longer, or in a part time capacity to help you keep up with repayments, or even take a lodger in!
5. Let your children help out. They could perhaps take the mortgage on for you and you repay them each month; a bank is more likely to let you arrange the mortgage over a longer term if it is in your children's name. This option does have downsides, especially when it comes to your child getting a mortgage for their own home, but it should be considered
Plan, plan, plan
If you are within 15 years of retirement and have an interest-only mortgage you need to put a plan in place to get it paid off, don't reply on house prices rising and bailing you out, they don't always go up!
If you are closer to retirement, or even about to retire, then the situation is even more serious and will require drastic action.
Take advice, think through your options and then take action; only by doing so will you solve the problem.
Phillip Bray writes for Investment Sense on a variety of retirement topics, including Annuities, Income Drawdown and Flexible Drawdown pension. Here he looks at the interest only time bomb and how it could affect you if you are retiring soon.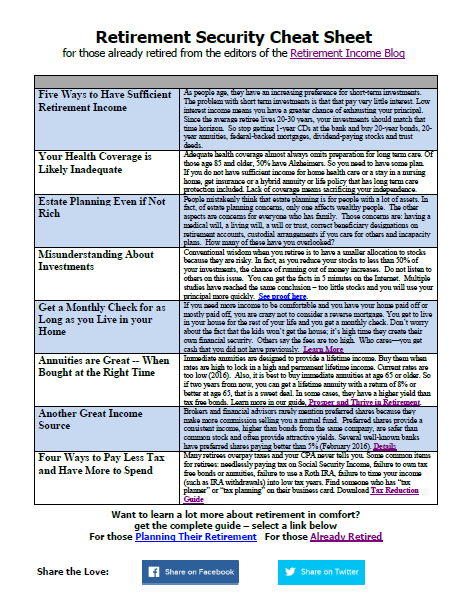 How to Prosper and Thrive In Retirement
For those already retired seeking to improve their finances
The 4 most important issues for any retiree and a quick plan to address each
The overlooked annuitization of assets to make your money go farther and reduce risk
An easy way to save money on health coverage
You don't need to be rich to plan your estate like this
A few simple lessons can reduce stress and bring more joy in your retirement year. Stop worrying and learn the simple
actions to take.