One of the challenges many older investors encounter when retiring is controlling their cash flow to provide appropriate retirement earnings. Unfortunately, common stock dividends come with no assurances as they can change. Companies are not required to pay them, and companies that do can suspend their dividends anytime as their business requirements dictate. Since there are no guarantees for dividends, is it advisable to rely on them when retiring?  The chart below may answer that question.
First, now that companies rarely cut dividends except in extreme economic times such as 2008. And even then, many companies maintained their dividends. We advise to create a varied portfolio of distinct dividend-paying stocks. In case your dividends are coming from a single source, you run the risk of losing what might be a substantial part of your income should the company decide to discontinue their dividend payments (just because you retired from company X and have an allegiance there, it is unwise to have a large portion of your retirement portfolio in one stock). Retiring with a varied portfolio, your normal dividend income stream could carry on, buffered by the on-going payments of the other shares in your portfolio. Although diversification doesn't guarantee against the risk of loss in a decreasing market, it could help to minimize the market unpredictability risk of your general portfolio.
Second, when retiring and building your dividend-income portfolio, look for high-quality companies in market sectors that have historically paid out a steady stream of dividends to shareholders. Avoid economically sensitive stocks like airlines and opt for supermarkets and personal care items.  Discovering these shares is not difficult and there are some good places to start. Businesses in stable industries or in highly-regulated markets including electric utilities are typically great candidates to have in a retirement dividend-income portfolio. These businesses usually encounter less risks to their business and less disruptions of their cash flow, which makes it more unlikely that they would have to discontinue dividend payments.
click to see full size
Another method to invest for dividends when retiring is to choose a dividend income fund. A dividend income fund provides diversification in a mutual fund. Plus, a fund offers the experience of the expert team of financial analysts and portfolio managers who does the research and chooses the stocks on your behalf. Take note, however, that stocks and mutual funds are investments that entail market risk, and investment return and principal value will vary so that upon redemption an investor's shares might be worth much more or less than the initial worth.

In light of the dangers of possessing stocks of any type, when retiring, dividend-paying shares are the least risky to own because they tend to fluctuate much less than pure growth stocks. The say that the 'proof is in the pudding' so we have provided a chart to show the results of the theoretical investor retiring with a basket of the S&P 500 stocks. As you can see, their retirement income would have risen quite regularly over almost 4 decades and done a lot better than parking money at the bank.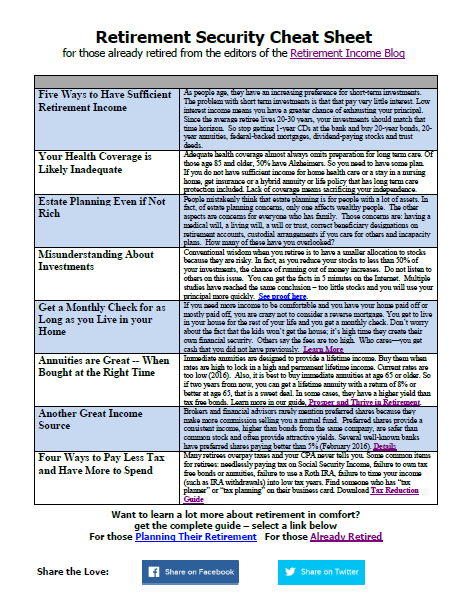 How to Prosper and Thrive In Retirement
For those already retired seeking to improve their finances
The 4 most important issues for any retiree and a quick plan to address each
The overlooked annuitization of assets to make your money go farther and reduce risk
An easy way to save money on health coverage
You don't need to be rich to plan your estate like this
A few simple lessons can reduce stress and bring more joy in your retirement year. Stop worrying and learn the simple
actions to take.