Generally to make IRA contributions, you'll need working revenue from which you contribute. However, there is a retirement savings option for a nonworking partner. The non-working partner can make contributions to either a tax deductible (traditional) Ira or a Roth Ira based on his working spouse's revenue. This exception provides 'soon-to-be' retirees both a way to pack more into their retirement savings, and decrease taxable revenue. Each--utilizing a Roth IRA--may create non-taxable income for later use.
To reap the benefits of the nonworking partner retirement savings option, two requirements should be met:
• Both spouses must file jointly
• The income of the working partner should cover the entire contributions of both spouses
The maximum contribution that every spouse could contribute in 2011 is $5,000 plus an additional $1,000 'catch-up' contribution if you are 50 or older. That is an additional $6,000 savings contribution by the nonworking spouse per year for all those last 5 or so yrs before a 'working spouse' retires.

Retirement Savings Option for Roth IRA Contributions
Each spouses, if filing a joint tax return, can contribute the maximum to their own Roth IRAs as long as the working spouse's revenue is under $167,000 (or $167K for short). Between $167K-177K contributions of both partners are phased to $0. Roth IRA contributions are not tax deductible but are made with after tax contributions. And there are not restrictions according to the working partner being covered by a retirement program at work.
Retirement Savings Options for Deductible (conventional) IRA Contributions
Both spouses may contribute to their very own deductible IRAs. However each spouse's contribution has different limits related with the working spouse's income, depending on whether or not the working spouse is covered by a retirement prepare at work.
Retirement Savings Options for Deductible and Roth Contributions for Both Spouses:
one working, the other nonworking in 2011
Maximum Contribution: $5,000 (plus additional $1,000 if 50 or older)
Requires: filing status to be 'married filing jointly'; working spouse's income

'At work' status of working spouse

Spouse

IRA type

Contribution

Working spouse's Income range

Covered by retirement plan
Working spouse
Deductible IRA
Maximum
Below 89K
"
"
"
Partial
89K to 109K
"
"
"
None
Above 109K
Not covered by retirement plan
Both working and nonworking spouse
Deductible IRA
Maximum
No income limit
Whether covered or not covered
Nonworking spouse – for Roth and Deductible IRA, Working spouse – for Roth only
Deductible IRA or Roth IRA
Maximum
Below 167K
"
"
"
Partial
167K to 177K
"
"
"
None
Above 177K
In the case where there's no retirement strategy at work, both the working and nonworking partner have the retirement savings options to make the most contribution no matter how high the working spouse's earnings is.
If the working spouse has a retirement strategy at work, his contribution is going to be restricted and eliminated commencing when his income actually reaches $89K (see table for complete contribution limits). Nevertheless, the nonworking spouse's contribution will not begin to be phased out till the working spouse's earnings actually reaches $167K.
For example, if Mr. Smith is covered by a retirement plan at work and generates $120K, he will not be able to make a deductible contribution to an Ira. His nonworking spouse, however, has the retirement savings options to make the highest contribution to her deductible Individual retirement account or her Roth Individual retirement account. Mr. Smith, as an alternative could contribute the maximum to his Roth IRA.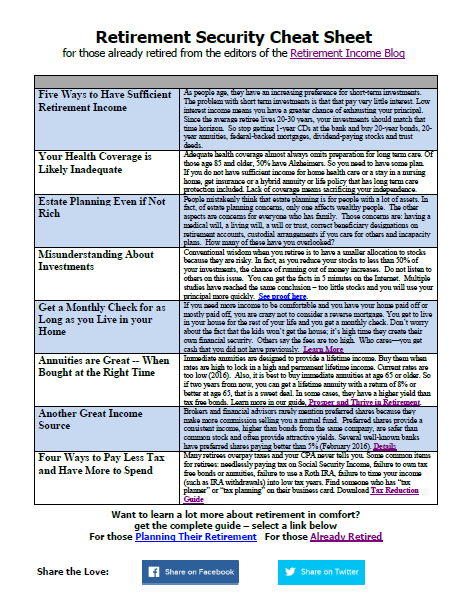 How to Prosper and Thrive In Retirement
For those already retired seeking to improve their finances
The 4 most important issues for any retiree and a quick plan to address each
The overlooked annuitization of assets to make your money go farther and reduce risk
An easy way to save money on health coverage
You don't need to be rich to plan your estate like this
A few simple lessons can reduce stress and bring more joy in your retirement year. Stop worrying and learn the simple
actions to take.