Supplemental Retirement Income
Would you rather depend on others for your retirement income needed or depend on yourself? Most retirees depend on others for retirement income--social security, the bank, their pension, etc.  Unfortunately, you cannot control any of these retirement income sources so if you get screwed, it should come as no surprise.  Let's discuss controlling your income in retirement.
Own or invest in a business.  You can do this at any age.  In your town, there are dozens of opportunities to get needed retirement income from a  business.  You don't need to work in it--you can just be an investor.  For example, what is your favorite restaurant?  Would that be a business you would like to own or own part of?  Then ask the owner if he is looking for investors--maybe he needs cash to send his kid to college or maybe he wants to open another location.  What about your clothes cleaners?  Are they busy?  is this a business you would like to own or own part of?  Think about everyone you buy something from and if you think it's a quality business you would like to own, then ask the owner if he wants an investor.  Your retirement income needs may be satisfied right in your own town.  These local businesses -- restaurants, clothes cleaners -- they generate plenty of consistent cash for the owners.  Typically, 20%+ of the revenues can be taken as income and can be the source of your retirement income needs.
Or maybe you've said to yourself,  "I wish there were a ...... in my town."  Well why not start it?  If it's a big company or a franchise then call them right now. Would you rather get supplemental retirement income from something you can control or observe that's right in your town, or invest in stocks, or bonds with people you don't even know, who may have questionable ethics and be the next target of the Justice Department or SEC?

"But I don't know anything about.....," you say. Well FIND OUT!  Go to the library, get on the Internet, talk to others in that business.  Retirement earning knowledge does not come out of thin air.  It comes from asking and investigating.  Be interested in looking stupid (you need to get over the American hangup of looking stupid) and asking basic questions so that you learn what you need to know to secure your needed retirement income.
Alternatively, maybe one of those local businesses want to grow and will hire you to make their business grow, assuming you have no money to invest. Take your favorite restaurant.  Have them print up coupons that you will give out to everyone you know (you can also put them on the windshield of every car parked in town).  For each coupon that gets redeemed, the restaurant owner agrees to pay you $10 to supplement your retirement income.  Sure, that payment to you may consume their profit on the meal they serve but if the new customer is impressed, he comes back again and again and the restaurant owner earns hundreds of dollars over the years from his new patron.  Same with the cleaners you go to, the fruit stand, etc.
Its time you get out and about and see all of the many sources for retirement income needed.  Put on your supplemental income glasses and see all of the opportunities around you and stop looking for the job that does not exist.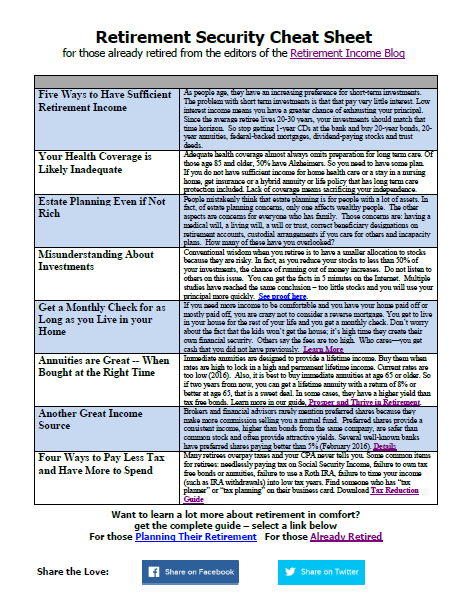 How to Prosper and Thrive In Retirement
For those already retired seeking to improve their finances
The 4 most important issues for any retiree and a quick plan to address each
The overlooked annuitization of assets to make your money go farther and reduce risk
An easy way to save money on health coverage
You don't need to be rich to plan your estate like this
A few simple lessons can reduce stress and bring more joy in your retirement year. Stop worrying and learn the simple
actions to take.