The typical sources considered for retirement funding are
401k and retirement plans (IRAs)
Pensions
Other savings
But you have huge opportunities to gain retirement funding from other sources under your own steam, during retirement.  These other sources are not often mentioned by retirement advisors unless you pay a fee for their advice as there is no commission to be made for the following recommendations.
Part time work—what are you going to do if you don't work—watch Oprah reruns?  Although the unemployment rate is up slightly because of a weak economy, we are heading into a labor shortage with more jobs than workers.  There will be demand for your paid time.  And don't fret about your page—any employer would rather have a worker from the baby boomer generation than a Gen X or Gen Y employee as their work habits are not what they truly desire.
Self Employment—there are gobs of opportunities for retirement funding if you are willing to learn something new.  For example, if you want to invest in real estate but don't have any money, there are plenty of companies that will provide money for you to find underpriced real estate and split the profits with you.  You must think like an entrepreneur to profit from the myriad of such opportunities If you are not willing to learn, forget it.  Spend a day searching the web and you will quickly be overwhelmed by work-at-home entrepreneurial opportunities--super sources for funding retirement.

Multi-level Marketing—a type of self employment not to be shunned and quite suitable for funding retirement.  There are millions of people involved in this very social way of making money.  If you are rooted in your existing opinions and not open-minded to such opportunities, don't expect to generate more retirement income.
Phone Sales—Hundreds of companies need people who can conduct successful sales conversations and close business. Work from home.  Don't know how to sell?  Take a class.  Most people in sales have never taken a sales training class so you'll be ahead of the crowd if you do.  And you can wow your peers with this very lucrative method of retirement funding.
While visits to a retirement advisor can help with tax planning, passive investments in stocks, bonds and funds, when it comes to generating your own income, the Internet will be your best source of information.  Also attend 'work-at-home' expos which come to most large cities.
For financial professionals seeking to gain leads for annuities, insurance,investments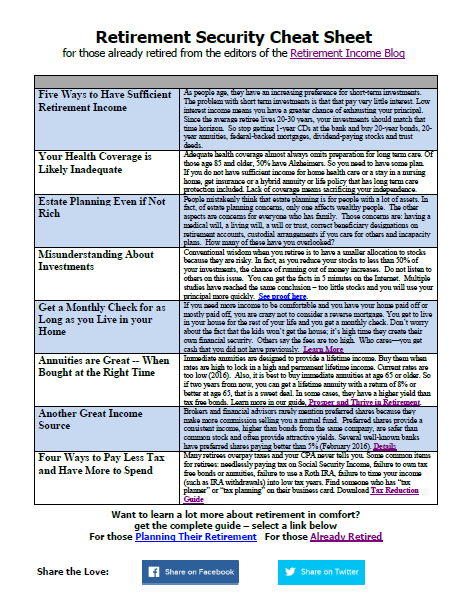 How to Prosper and Thrive In Retirement
For those already retired seeking to improve their finances
The 4 most important issues for any retiree and a quick plan to address each
The overlooked annuitization of assets to make your money go farther and reduce risk
An easy way to save money on health coverage
You don't need to be rich to plan your estate like this
A few simple lessons can reduce stress and bring more joy in your retirement year. Stop worrying and learn the simple
actions to take.