Why Do Some Say There's a Retirement Crisis?
In the book The Last Hours of Ancient Sunlight, author Thom Hartmann explains how we live off resources created in the past. Specifically, he notes that when we use fossil fuels, we are in fact using the organic materials from millions of years ago broken down by ancient sunlight.
The fossil fuels we use were created long ago and thus we live off our "energy nest-egg."  Most thinking people realize this is not a good idea as not only does this create a global warming problem but the amount of fuel is finite and will eventually be depleted.
Thus the good sense of utilizing renewable energy as we will not run out of supply.
And so it is with the financial nest-eggs of many retirees and the supposed retirement crisis.

We use a model where the retiree takes "ancient money," money earned years ago, and is supposed to live through retirement on that accumulation. At a gross level, this does not seem like a great retirement plan. The lack of retirement savings by most has been labeled by experts as a retirement crisis.
This nest-egg of course has the possibility of being depleted through withdrawals or eroded by market fluctuation. So I believe having a nest egg is only one factor to a financially successful retirement. I personally am not leaving my future to this precarious situation, dependent on retirement savings, and urge others to follow my lead.
How to Avert the Retirement Crisis
I suggest another approach to retirement.
One must focus on some source of current income throughout retirement, "renewable money," which will not run out.
There are many sources:
Ownership in stocks of companies that can raise prices, maintain margins and pay increasing dividends over time (this has been far safer than relying on insured bank deposits)
Direct ownership in a personal business enterprise.  Ownership of a business in the Internet age can be done with never leaving the house, from any location on earth, with just an Internet connection
Divided ownership in real estate or direct ownership which produces a growing stream of revenue as rents increase (in its simplest form, one can add a rental unit to one's existing property or simply rent a room in their home through AirBnB)
Earned income from part-time work (got a driver's license? – call Uber) or seasonal work. As time passes, the rate per hour increases with general inflation
A Reverse Mortgage Line of Credit – the amount available grows over time
Our mindset and outdated model for retirement is the reason for our "retirement crisis." There is only a crisis if we believe that people should live off their ancient and limited money.
Remember when we had an energy crisis? It was also a function of an outdated model requiring to survive on a limited amount of fossil fuel.
But the alternatives for generating current income throughout retirement are more abundant. A hundred years ago, we were largely a bunch of farmers whose income stopped when our bodies stopped. No longer.
Plenty of people maintain mental acuity into old age and that is the only resource needed to generate continuous income. Hopefully, cures for dementia and Alzheimer's are near so that everyone has the mental capacity needed to generate income throughout life. And it is quite possible that greater mental activity alone can mitigate problems with age-related mental incapacity.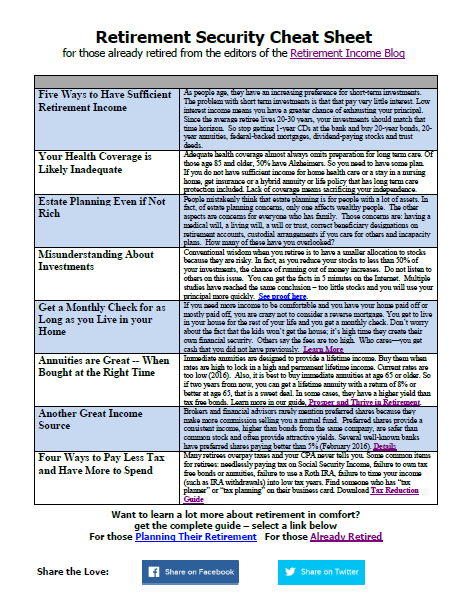 How to Prosper and Thrive In Retirement
For those already retired seeking to improve their finances
The 4 most important issues for any retiree and a quick plan to address each
The overlooked annuitization of assets to make your money go farther and reduce risk
An easy way to save money on health coverage
You don't need to be rich to plan your estate like this
A few simple lessons can reduce stress and bring more joy in your retirement year. Stop worrying and learn the simple
actions to take.