Contributed by Debt community Member
Spruce up your finances and live debt free
You work really hard throughout your life just to lead a comfortable retired life. You know that you'll have a lower income level when you're retired and therefore you hopefully have paid off your entire mortgage loan and also shunned your credit card debt as well as have adequate retirement savings.  Doesn't this sound like an imagination? Well, with the present financial condition in the US, an increasingly large number of retirees are struggling to make ends meet and in large parts of the nation, they're gradually being walloped by the ill-effects of the inflation. You never want to spend your post-retired life running to the professional debt relief companies like the debt settlement firms for financial help. Getting help from a retirement advisor is required as you always need to take the advice of the experts in order to take the most important financial steps.
Financial tips for the retirees – Gaining a control on your retirement savings


Here are some personal finance tips for the struggling retirees in the US, which, if followed can ensure a financially comfortable life. Check out how you can bolster the benefit of your retirement savings even when you do have only modest income.
Diversify your investments: It is usually true that people's investment portfolios exhibit less risk as they age but it is also true that US life expectancy in retirement has also increased. Therefore, protection and longevity of the retirement savings nest egg is key. If you're a retired, you must always make sure that you diversify your investments in order to minimize your risk.
Be aware of the pitfalls of using credit cards: There are many couples in the US who are still addicted to using their plastics as they feel that this is a better option than carrying cash. However, the fact is just the opposite. Plastics may seem to be very appealing but they are the root cause of the consumer debt level that is spiraling out of control. Nothing can be worse than drowning in high interest debt when you have no income at your disposal. Avoid using your cards as much as possible if you notice even the slightest difficulty to control your spending.
Get help of a professional when you can't manage money: It is always better to get help from the professionals when you feel that you can't manage your money on your own. Bearing in mind the ill-impact of debt on your personal financial life, you must get help of a professional expert who may help you with debt management as well as risk management.
Look for secondary sources of income: With the debt level soaring in the nation, you must keep looking for secondary sources of income, though you're retired. The Internet can offer you with various income opportunities. You can sell on-line photographs, make money blogging, become an online content writer and also promote a website through affiliate programs.  Here are additional sources of supplemental retirement income.
Therefore, if you want to protect your retirement savings due to some wrong financial decisions, follow the money tips mentioned above to enjoy a better retirement.  if possible, keep on working so that you never fall sort of funds and require running to debt settlement and consolidation companies for help. Repay your high interest debts and enjoy your 'golden years'.
.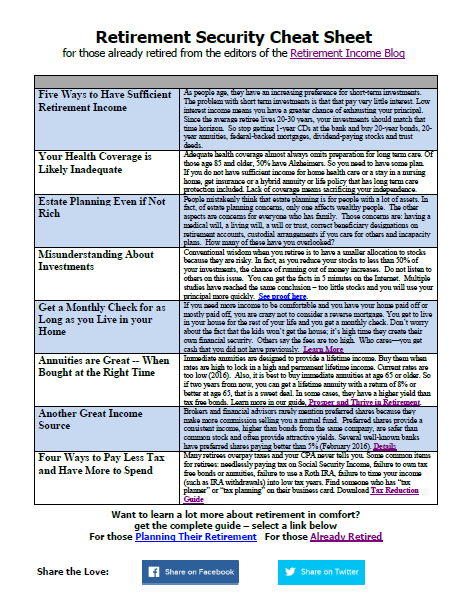 How to Prosper and Thrive In Retirement
For those already retired seeking to improve their finances
The 4 most important issues for any retiree and a quick plan to address each
The overlooked annuitization of assets to make your money go farther and reduce risk
An easy way to save money on health coverage
You don't need to be rich to plan your estate like this
A few simple lessons can reduce stress and bring more joy in your retirement year. Stop worrying and learn the simple
actions to take.