Those entering retirement often mis-perceive the length of their investment horizon and will incorrectly calculate retirement longevity. For how long does your portfolio need to survive and supply retirement income? Well, that all depends on how long you will live. But that is exactly where the misconception is! How long will you statistically live?
The life expectancy for individuals born in the year 1900-the turn of the twentieth century-was about fifty years. That indicates 50% of the people born in 1900 had been expected to live beyond 50, whilst 50% had been expected to die before getting there. So life expectancy is statistically the '50/50' age that people will live to. Therefore, even when you calculate retirement longevity and use this figure in your retirement financial planning and it were the right number to use, you'd still have a 50% probability of living longer and running out of cash! Therefore, you need a more sophisticated estimate of longevity, your life span probability, the chance of living to a certain age.  Your goal is to have a retirement plan that has say, a 90% probability of success.
All of us know that life span is approximately seventy seven years in the US. Nevertheless what does that really mean? As you will soon notice, this number is misleading and shouldn't be utilized in your retirement financial planning. You must calculate retirement longevity very carefully.  You want your plan not to give you a 50/50 chance of having sufficient funds, but say a 90% chance.
The life expectancy for a individual born in the year 2000-the turn of the 21st century-is 77. So 50% of these individuals will live beyond the year 2077. We can see that life-span has increased by about 50% throughout the twentieth century. Enhanced medical treatment and health account for most of this.

Now here's the rub.
For people born in the year 2000, women's lifespan is 79.9 while men's is just seventy four. Well-off white collar employees will statistically live more than poorer blue collar workers. How you are able to control your living style and health obviously has an effect on your lifespan. So you're not meant to kick the bucket at the 75-year mark! Therefore,  when you calculate retirement longevity for your financial planning not only as for your assets and income but also its influence on your life span.
Second - and more incredible is that the older you get, the further beyond your original life-span you are anticipated to live! That's simply because you have made it through early death figures that limited your original life span according to your birth year. Very few retirement financial plans take into account that fact when they calculate retirement longevity: the longer you have existed, the longer you will live.
Insurance statisticians keep track of this lengthened lifespan for individuals according to their current age. The IRS publishes its own tables on these. It is called 'the life expectancy factor' that is the amount of years more you have to live-statistically. You have a 50% possibility of outliving these as well! See the table for examples taken from the IRS's table.
| | | |
| --- | --- | --- |
| Current age (yrs) | IRS Life expectancy Factor (yrs) | Projected life  expectancy (yrs) |
| 60 | 25.2 | 85.2 |
| 65 | 21 | 86 |
| 70 | 17 | 87 |
| 75 | 13.4 | 88.4 |
| 80 | 10.2 | 90.2 |
| 85 | 7.6 | 92.6 |
As you could see from the above, if you have reached age 60, you are expected (50/50 possibility) to live to age 85. But when you reach age eighty five, you are expected to live to age ninety two! How many individuals think about this when they calculate retirement longevity?
All this relies on the mathematical reality that retirees have usually a a lot longer investment horizon compared to what they think. Therefore, forget investing in 6-month bank certificates for almost zero interest. When you organize-or re-evaluate--your retirement years and when you calculate retirement longevity, be sure to have your retirement plan account for how many years your money must really last.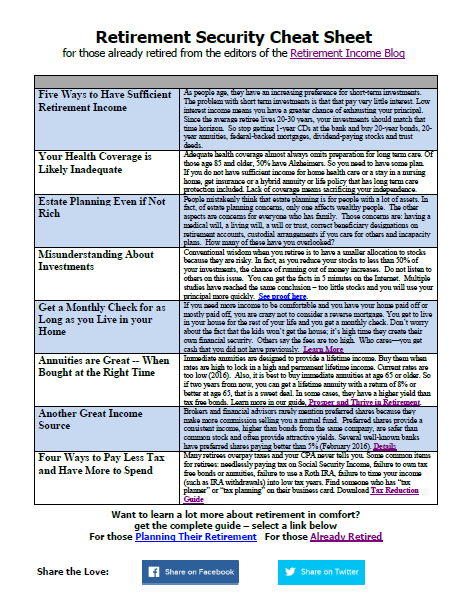 How to Prosper and Thrive In Retirement
For those already retired seeking to improve their finances
The 4 most important issues for any retiree and a quick plan to address each
The overlooked annuitization of assets to make your money go farther and reduce risk
An easy way to save money on health coverage
You don't need to be rich to plan your estate like this
A few simple lessons can reduce stress and bring more joy in your retirement year. Stop worrying and learn the simple
actions to take.