In economic downturns everyone tends to tighten their budgets, and that includes retirees. In fact you may find you're actually saving in retirement after paying your regular expenses. So where should you put this 'extra' savings as a retiree?
You may tend to just put it into your retirement savings into a bank account. But that makes your money vulnerable to inflation and unable to participate in market upturns. Its earnings are also taxed yearly - you may as well put it under the mattress.
Better to make it work toward ensuring more for you in the future. At 65 you statistically have some 20 years of remaining life expectancy. Long before that time elapses, both inflation and economic upturns will affect your holdings.
Presuming that you've stashed anywhere from 1 to 2 years of easy-to-access emergency money, you should put your 'extra' retirement savings into investments of a longer time horizon. Here, you're looking for equity growth – both to offset the effects of inflation and further capitalize on the eventual rebound of the economy and the stock market.

Be sure to diversify your retirement savings among a variety of equity portfolios. Although you may invest some in funds that cater to large capitalization stocks, you should try to include real estate investments, international stocks, emerging markets, and smaller U.S. stocks.
These investments will reside in your 'taxable' accounts since they come from investment earnings and not work earnings. And as equity-based investments, their annual earnings should be small, since you're investing for 'growth in principal'. They may not 'move' for a while, but remember, you've already proven you don't need this money.
Consider this money outside your normal portfolio arranged according to your risk profile and income requirements. This way you can afford to risk a small portion of retirement savings and wait sufficient time for it to bloom.
For the most conservative investors, consider index-linked CDs.  These are FDIC insured CDs that pay interest based on increases in the stock market.  If the market falls, you original principal is guaranteed.  If the market rises, your index-linked CD increases in value.  Similar to this alternative, are equity-indexed annuities.  The same principals hold.  If the market declines, the issuing insurance company guarantees your principal.  If the market advances, your annuity balance participates in the gain.  Consult a retirement advisor to learn about your options for saving in retirement.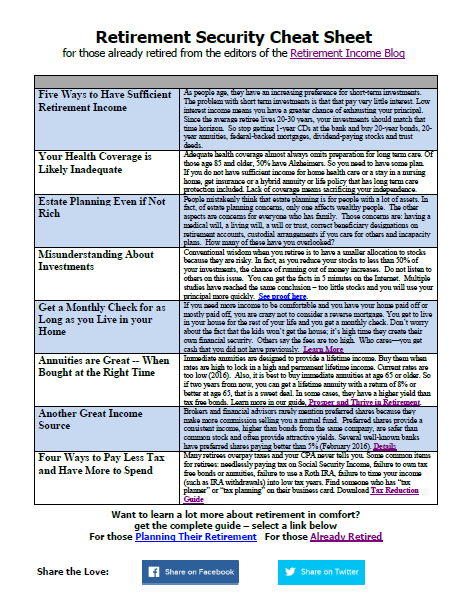 How to Prosper and Thrive In Retirement
For those already retired seeking to improve their finances
The 4 most important issues for any retiree and a quick plan to address each
The overlooked annuitization of assets to make your money go farther and reduce risk
An easy way to save money on health coverage
You don't need to be rich to plan your estate like this
A few simple lessons can reduce stress and bring more joy in your retirement year. Stop worrying and learn the simple
actions to take.