Bonds are not the only method retirees can generate income; preferred shares are viable options as well to consider in your retirement financial planning.
Preferred stock is a class of ownership inside a organization which generally has priority over typical stockholders on revenue and assets in the case of liquidation. Even though preferred stocks are listed as equity on a company's balance sheet, in some ways they are a lot more like bonds than typical stocks.
Initially, various investors think that preferred stock provides a potentially higher level of stability than common stock, because if the company goes bankrupt, dividends on the company's preferred stock are paid after the company's debt but prior to dividends on the company's typical stock. (Of course, no investment is totally secure.) While bankruptcies do not happen often, a more typical event happens when a business must reduce it's common stock dividend due to slow sales. In those times, the preferred stock dividend is usually maintained. Thus, preferred shares help provide a retirement financial planning option that is more stable.
Preferred stock has a stated dividend which must be paid prior to dividends to common stockholders. And, most preferred stocks meet the criteria for the 15% tax rate on dividends (preferred stocks issued by real estate investment trusts, or REITS, being the distinctive exception). So, if you are looking for potentially lower volatility and potentially higher and much more secure dividends than common stocks offer for your retirement portfolio, preferred stock may be some thing to analyze regarding your retirement financial planning.

Most investors are more familiar investing in common stock for appreciation.  An investor usually buys shares of a preferred stock with the investment objective of a relatively steady revenue yield rather than for the potential capital growth. For example, you might buy IBM preferred shares for an appealing 6% yield in contrast to the IBM common shares which pay a 2.5% dividend. You can have a substantial profit (or loss) on your common shares while your preferred shares will vary very little. If you purchase preferred shares for say $25 per share, it is unlikely that the value will every fluctuate more than $3 in either direction. As a retired person who needs a balanced retirement portfolio allocation, or who is thinking about sound retirement financial planning, it is important to keep in mind you'll need assets that appreciate (e.g. common stocks, real estate) along with those that produce current income (e.g. bonds, preferred shares, trust deeds).
How would you know which preferred shares to buy and where do you find them? The same location you will find common stocks. Have a look at Yahoo! Finance or CNBC. On Yahoo! Finance, preferred stocks are listed by the ticker symbol of the issuing company, followed by an underscore, followed by the letter P, associated with the series letter (if there is 1, and there probably is, because businesses that issue preferred stocks often have more than 1 series, using letters of the alphabet to differentiate them). On CNBC, preferred stocks are listed by the business ticker symbol, associated with a vertical PR, accompanied by a letter indicating the particular issue. The well-respected online source many agree is www.quantumonline.com. Hopefully, this primer on preferred stock will provide something extra to help you locate income options.
Also be aware that just like bonds, some preferred shares have more risk than others. When purchasing preferred share, as when buying any stock, it is essential to know what the company issuing the stock does. However, you also have to do a risk analysis, like you would with bonds.  One way to determine high quality of a preferred stock would be to evaluate the stock's rating. Like corporate bonds, preferred shares are rated by Standard & Poor's or Moody's. Additionally, its useful to have some common sense when investing in preferred shares.  Preferred shares of a supermarket chain will naturally be safer than those in an economically sensitive airline.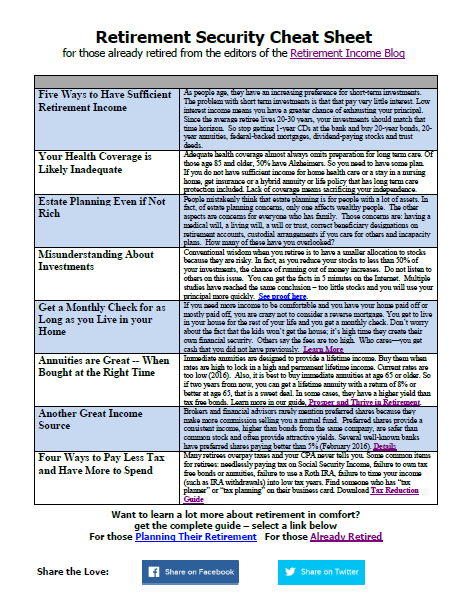 How to Prosper and Thrive In Retirement
For those already retired seeking to improve their finances
The 4 most important issues for any retiree and a quick plan to address each
The overlooked annuitization of assets to make your money go farther and reduce risk
An easy way to save money on health coverage
You don't need to be rich to plan your estate like this
A few simple lessons can reduce stress and bring more joy in your retirement year. Stop worrying and learn the simple
actions to take.