Here's the headline on CNBC today "US Must Look at Revenues to Cut Deficit: Geithner."
Senior Citizens will supply much of the revenue that the US needs as you will see.
Americans are polyannish. We have it so good that no one wants to be the first to say that the emperor has no clothes. In fact, the US is heading toward bankruptcy. That is a fact. The county is borrowing funds in excess of what can reasonably be repaid. The silver lining is that the federal government can take money from you to pay its bills--it's called taxes. In order to stave off bankruptcy, the US Government has ultimate flexibility. It can spend less and it can collect more and senior citizens will bear the brunt of both tactics.
The largest expenditures that create such a terrible spending situation are the very expensive social security and Medicare programs. Some senior citizens who don't know better (or just don't want to be bothered with the facts) think that these are self-financed programs. Specifically, some senior citizens think that the money they get from social security is the money they paid in. WRONG. That is senior citizen fantasy. Most retirees get back ALL of the money they paid into social security within three to four years of retirement. If the senior citizen lives longer in their retirement years than three or four years, the money they get comes directly from the paychecks of current workers.

If you don't believe me, prove it to yourself. Order a benefits statement from the social security administration. It shows how much you paid into social security during your working years. Now, calculate how much you get per month from social security. Behold! The $50,000 you paid in is recovered in just over four years from the $1,000 per month you receive! Similarly, Medicare runs at a deficit and is not financed by the premiums that retirees pay. So it's pretty obvious the BIG money for righting America's financial situation is to curtail social security and Medicare benefits. By the way--if this astounds you in any way, please check the news in Europe. Greece, France and others have discovered the same and are in process now of cutting their retirement benefits to their senior citizens.
The federal government will also look to increase taxes and senior citizens will bear the brunt. As retirees reach age 70 1/2, they must begin mandatory distributions from retirement plans. So senior citizens not only pay tax on income they get from various sources but also on money earned years ago and that was never taxed. However, say the tax rate when the money was earned was 28%. Now, when tax rates rise, the money gets taxed at say 32% upon withdrawal. Ouch!
This author is not commenting whether this burden that senior citizens will bear is right or wrong. Some may argue that senior citizens have been having a great ride collecting social security they did not earn, living off the backs of people working two jobs. Others will argue that retirees deserve to get these benefits. These are value judgments that have no right or wrong. What is important is to take care of your own finances in light of the coming changes.
As a senior citizen, you should strongly consider the following:
1. Withdraw money from your retirement plans now using up your current tax bracket before marginal tax rates increase
2. Forget about increases in your social security income. Don't plan on it and be prepared for more of your social security income to get taxed (currently, a portion or all may be tax free, depending on your individual income).
3. If you are fortunate to have a significant estate, remove assets from your estate NOW as the gift tax exemption is the highest it has ever been. If you don't, these assets may be subject to estate tax later, unnecessarily.
Get additional Retirement Planning tips.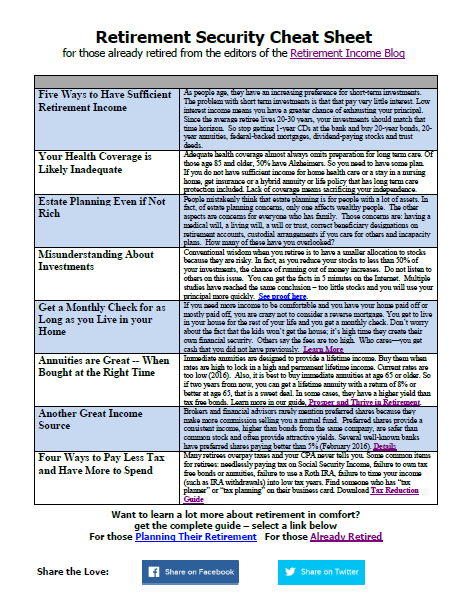 How to Prosper and Thrive In Retirement
For those already retired seeking to improve their finances
The 4 most important issues for any retiree and a quick plan to address each
The overlooked annuitization of assets to make your money go farther and reduce risk
An easy way to save money on health coverage
You don't need to be rich to plan your estate like this
A few simple lessons can reduce stress and bring more joy in your retirement year. Stop worrying and learn the simple
actions to take.