Looking to see how much retirement income you may need?  Make sure and see the related posts at the bottom of this post.
As noted in our post on average retirement savings, it is not exact to define a "retiree"  in determining average retirement income. About 15% of the people who classify themselves as retirees are working some hours per week. And as seen in the last graph below, the portion of those working at retirement age is expected to increase to 25% in the next couple years.
What we do know is that in the US, labor force participation falls off rapidly after age 60. So we can assume that for those age 60 and over, we have a majority of people no longer in the labor force. That will give meaning to the two tables on average retirement income below.

(figures are dollars per year)

INDIVIDUALS

MEN

WOMEN

Median

Mean

Median

Mean

60 to 64 years

39,797

56,490

22,133

33,655

65 years and over

25,877

38,754

15,282

22,625

..65 to 74 years

28,952

43,934

16,108

25,230

..65 to 69 years

30,859

45,447

17,186

27,416

..70 to 74 years

26,935

41,830

14,892

22,404

..75 years and over

22,762

31,574

14,713

19,875

..65 years old and over

31,354

46,363

....65 to 74 years

38,895

55,575

....75 years and over

25,693

36,347
The first table above shows us income by age for individuals. You may recall that the median is the halfway point between the lowest and highest person's income.  So for men in their late 60's, the median individual income is just under $31,000.  The mean (the average retirement income) however is over $45,000 because there are always a few Mitt Romney types at the top which pulls the average way up for the group.
Also note the significant disparity between men and women and this is assumed to be because women are working fewer hours per week and possibly, in lower paying positions.
The second table shows income by household, not by person. Notice that the household incomes are higher than the individual incomes as you would expect but not a lot higher.  This coincides with the expectation that in an older couple, one may work but the other does not.  So the income contribution of the non-working spouse may simply be social security income or some pension income.
Not shown here are some variations on average retirement income by region of the country and urban vs rural residency.
Here are some great graphs that provide a lot of insight into the average retirement income of those at retirement age.
Related Posts on Retirement Income:
How Much Retirement Income will You Need?
Sources of Supplemental Retirement Income
Yet more posts can be found using the Google custom search bar at the top of the blog.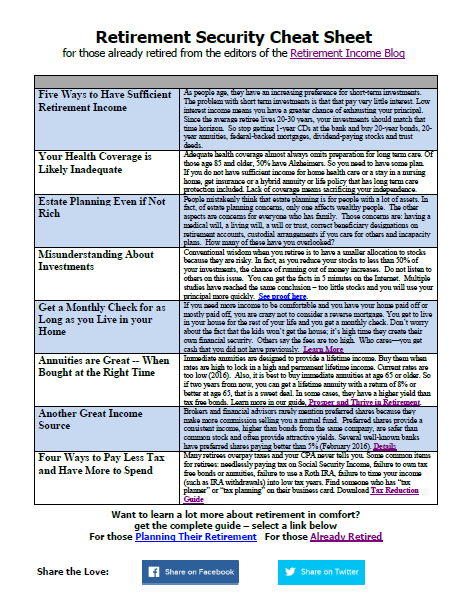 How to Prosper and Thrive In Retirement
For those already retired seeking to improve their finances
The 4 most important issues for any retiree and a quick plan to address each
The overlooked annuitization of assets to make your money go farther and reduce risk
An easy way to save money on health coverage
You don't need to be rich to plan your estate like this
A few simple lessons can reduce stress and bring more joy in your retirement year. Stop worrying and learn the simple
actions to take.