First, let me give you the summary on average retirement age and then I'll provide the details.
The average age of retirement in the US has declined steadily as time has progressed from 1950 until the current day. The average age of retirement has fallen from about age 66 or 67 to age 62 or so, today.
[wp_ad_camp_1]

BUT There is an offset to the declining retirement age:
Older workers are increasing their
labor force participation and hours of work
Over the past dozen or so years, older men — especially those 65 years or older—have increased their labor force participation and full-time employment, thereby reversing long-run declines; increases for older women also have occurred and have been proportionately greater. So although the average retirement age has declined, we see that more of those people are working!
From the second table included, you can see that of people aged 65 to 69 those who would been employed full-time had dropped to 39.4% in 1994 yet at the latest measurement, in 2007, the percentage was over 50% for women and a whopping 70% for men. And the percent of those employed full time has soared.
There is no data more recent than that in this table however, one can assume that with the recent downturn in the economy, the number of people 65 and older who are working  has increased further.
Note also from the third graphic, labeled "Older Workers," that the number of people age 65 and over who are employed doubled from 1977 to 2007 even though that population group increased by only 60%.
http://www.bls.gov/spotlight/2008/older_workers/
Based on our fourth and final chart, there is a clear indication that of those who are working at age 65 or older, there is a significant increase in those working full-time rather than part-time.
Note that in these figures, "retired" means that the individual is receiving some type of retirement reward, be it social security, employer or public pension, etc. So it is quite possible, and the data indicates,  that the data of decreasing average retirement age indicates those who are eligible for some type of retirement payment are taking it earlier and then moving on to other work. In other words, they may not really be "retired" based on your definition of retirement.
Do you ask, "When can I retire?"  Get your retirement calculations here.
Unless otherwise noted, all data from http://www.ebri.org
My short bio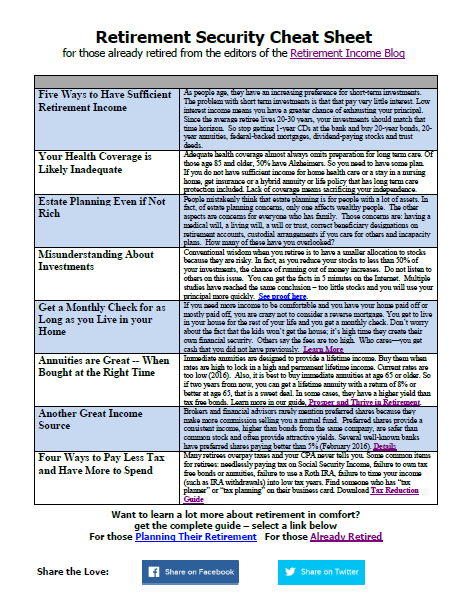 How to Prosper and Thrive In Retirement
For those already retired seeking to improve their finances
The 4 most important issues for any retiree and a quick plan to address each
The overlooked annuitization of assets to make your money go farther and reduce risk
An easy way to save money on health coverage
You don't need to be rich to plan your estate like this
A few simple lessons can reduce stress and bring more joy in your retirement year. Stop worrying and learn the simple
actions to take.