If you have a loved one who is suffering from early-stage  Alzheimer's and home care—whether in his house or a family member's—is not an option, an assisted living facility can provide the assistance needed with daily living in a safe environment where trained professionals are on hand to help. Finding the right facility can seem like a daunting task, especially when your loved one has a unique health challenge such as Alzheimer's disease. Here are some important considerations to guide you in finding the right facility for your needs.
What Options are Available?
Assisted living facilities vary widely in the types of services they offer and their patient population. Some may specialize in providing care for people with Alzheimer's disease,  while others may not have a special focus on this illness, but are equipped to meet the needs of this population. Centers who specialize in this patient population are typically referred to as ''special care units'' with specially trained staff, specially designed programs and social activities, and a particularly safe environment. When deciding on facilities, it is very important to have a thorough understanding of what types of care is provided and what is not.
Can People with Advanced Alzheimer's Live at These Facilities?
Assisted living facilities are designed for people who require assistance with daily living, but are in otherwise good health and independent. As Alzheimer's advances, the level of care required is not available at these types of facilities, even ''special care units.'' If your loved one declines to a degree where she requires 24-hour care, you will need to consider a nursing home or make alternative arrangements.
What to Look for in a Facility
When investigating different elderly care communities for your loved one with Alzheimer's disease, there are some key things to watch for to determine the suitability of the facility. Keep an eye out for safety devices and precautions—are there non-slip floors, alarms, door and window locks, monitoring systems, motion detectors and sufficient lighting? What is the staff's experience in dealing with difficult behaviors and situations? How many staff and aides are on each shift and how many are available on the weekends? What is the caregiver to resident ratio? At what point would your loved one be required to move and receive more extensive care? What safety measures are in place to keep residents safe?

How is violent behavior handled and can your loved one be asked to leave based on violent or difficult behavior? How does the facility deal with wandering? Is there a structured routine for residents? Are activities and events specifically geared towards people with Alzheimer's disease? How are medical emergencies handled? Look around at the residents--do they look well-groomed and happy? Visit the center at different times of the day to observe different aspects, such as meals, activity times,etc...
This is only a partial listing of the questions to ask, but this covers some of the most important.  If you have the option of several facilities in your area, you should consider visiting all of them to get an idea of the different options available and ensuring you choose the facility you are most comfortable with.
Kelli Cooper is a freelance writer who blogs about various issues related to elder care.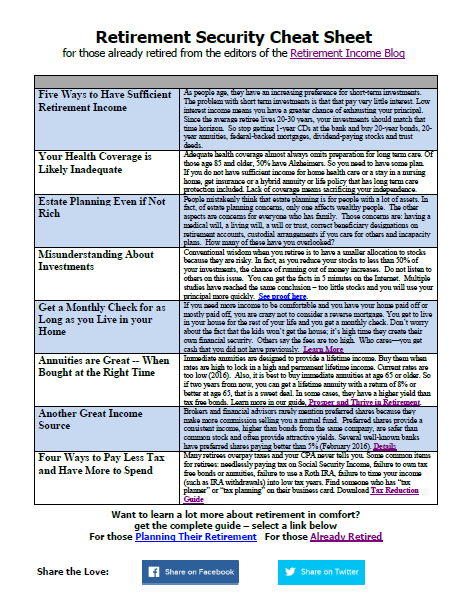 How to Prosper and Thrive In Retirement
For those already retired seeking to improve their finances
The 4 most important issues for any retiree and a quick plan to address each
The overlooked annuitization of assets to make your money go farther and reduce risk
An easy way to save money on health coverage
You don't need to be rich to plan your estate like this
A few simple lessons can reduce stress and bring more joy in your retirement year. Stop worrying and learn the simple
actions to take.