Whenever a family member becomes wheelchair-bound, either for the short term or for the long haul, it is stressful. Never before have cluttered rooms, skinny doorways, or awkward hallways been so painfully obvious; even worse, of course, is the issue of what to do about their entry into the home. Some of us are lucky enough to have level entryways or garage entrances that don't require a step up, but others aren't so fortunate. Of course you need to provide a means of entry to your home, in the form of a ramp or perhaps even an elevator. However, perhaps you're wondering about the cost, both out of your pocket and to your home's resale value. If you're worried, here are some answers to the common questions so that you can make a more informed decision with your wheelchair ramp purchase.
Sometimes, Ramps Lower Your Property Value
About 1 out of 200 people in the United States use a wheelchair. While having a ramp attached to your home can be a major bonus for the right person, it can be hard to find that person, and instead the ramp can be more of a detractor than an addition to your home value. This becomes especially obvious when the ramp is taking up valuable space in a small yard; ramps can also be considered an eyesore in some circumstances, awkwardly jutting out of a house and doing a 90 degree turn before hitting the ground.
It can be hard to fund a ramp, and the need to have a ramp built quickly can sometimes overshadow considerations about aesthetics. Unfortunately, if you don't take the time to consider how a ramp can be worked into your space, it will lower your property's value.

Sometimes, Ramps Increase Your Property Value
However, there is good news: it is possible to build a ramp that doesn't detract, but actually adds to your home's value. Because it can take a bit of time and planning to build a ramp that adds to your home, you might consider renting one or using a temporary one in the meantime.
A ramp that adds value to your home must blend into your property, not look like an afterthought. Attach your ramp to a porch or a deck and build it out of similar, long-lasting materials. If possible, extend your porch's roof to cover the ramp in order to protect it from ice and snow. If this is not a possibility, be sure to install nonslip treads. You can use intelligent landscaping to hide, disguise, or compliment your ramp; try lining it with shrubs, or planting a climbing flower beside it. If rodents are becoming a problem near your plants or ramp, try surprising them with a motion detector sprinkler to deter them. Be sure that your ramp complies with all state and federal guidelines if you are building it yourself.
How to Get It Right
If it's for a medical reason, you can deduct the cost of building your ramp from your taxes. Remember that you cannot deduct the addition to your property value, only the remainder; if your ramp cost $5000 to build and increased your home value by $2000, you can deduct $3000. Be sure to attach a doctor's prescription for the ramp to your taxes and work with your accountant if you have any concerns.
A ramp that is meant to add value to your home must be built to last out of strong, permanent materials. This doesn't have to be an extremely expensive addition, but you will need several thousand dollars to put into it. If that money is just not available for this project, do yourself a favor and choose a temporary or easily-removable option. If you spend just enough to put up a wooden or concrete wheelchair ramp but not enough to make it blend well with your property, you may need to pay a significant amount to rip it back out later – or be out that cash when you go to sell.
When it comes time to sell the house with your ramp, it doesn't hurt to play up the benefits to any potential buyers. Even if only 1 in 200 people uses a wheelchair, your potential buyer likely knows someone who has trouble with stairs or has to push a baby stroller. Not to mention how much easier it is to move into a house with a ramp – just roll all your furniture up the ramp and you're in!
Aaron Walker is a finance writer with strong interests in saving money, gadgets, and health. He is currently studying at an online nurse assistant school to pursue his dreams of helping people.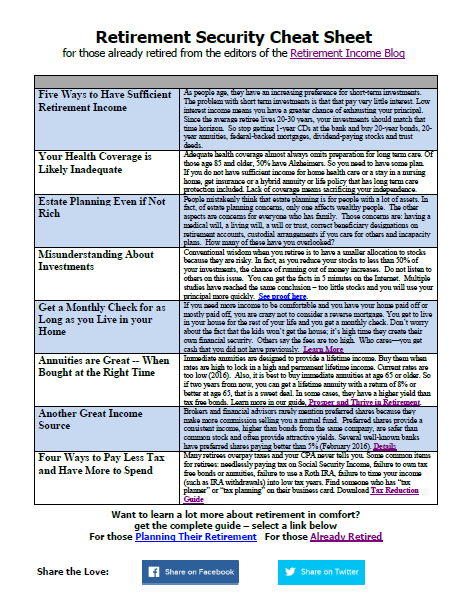 How to Prosper and Thrive In Retirement
For those already retired seeking to improve their finances
The 4 most important issues for any retiree and a quick plan to address each
The overlooked annuitization of assets to make your money go farther and reduce risk
An easy way to save money on health coverage
You don't need to be rich to plan your estate like this
A few simple lessons can reduce stress and bring more joy in your retirement year. Stop worrying and learn the simple
actions to take.