Medieval towns in France, vineyards in Italy, sandy beaches in Belize and the laid-back lifestyle in Portugal may be the reason these destinations are so popular among Americans looking to retire overseas. Affordable locales and good-to-excellent health care may also contribute, according to AARP.org. Either way, if you find yourself heading overseas to live abroad for a year or more, you've come to the right place to get organized for your move.
The Initial Overview: Three Months to Go
Book travel arrangements and housing for when you arrive in your new country.
Make a doctor's appointment to ensure you have an international vaccination record booklet. Check Centers for Disease Control and Prevention for your new country's vaccination requirements.
Learn the names and equivalents of prescription medication you may need in your destination country. Arrange to have a supply with you.
Renew or apply for passports, visas and international insurance polices. Consider appointing a power of attorney.
Create a folder to hold hard copies of 

important personal documentation

, such as tax and finance information, medical records, passports, birth certificates and family contact information.
If your driver's license is near expiration, renew it. Learn about international driving license requirements.
Spring Cleaning: 60 Days Before Departure
Request international shipping quotes from a company that arranges international shipping.
Research the climate of your destination country to know what kind of weather to expect.
Make a packing checklist and decide what will be shipped to you, what will be stored and what can be donated.
Have a yard sale.
Start packing things you won't need in the next few months, including holiday décor, seasonal clothes, family heirlooms etc. Label all boxes.
Check your country's electricity volt, as existing appliances and devices may not work there.
Determine what you will do with your house — find tenants, a buyer or someone to house sit. Decide the same for your vehicles.
Business Time: The Last Month
Organize a going-away party. Pass along new contact information.
Contact your bank to tell them of your move. Set up online bank account access so you can still manage bill payments and savings accounts. Pay any outstanding bills.
Alert the post office and set up a 

mail re-routing service

. Change your address on anything that requires it. Cancel any magazine or newspaper subscriptions.
Finish packing and labeling boxes, leaving only the essentials out. Make an inventory of belongings as you pack them.
Have your house and cars cleaned, repaired and prepared for new owners, tenants or vacancy. This includes contacting the utility department to discontinue your supply of gas, electricity, water etc on the day you move out. Set a date to terminate unneeded insurance plans.
Moving Day
Verify travel information to check for delays and changes.
Keep essentials with you on the plane, not in checked luggage or shipped boxes. This includes clothes and medication as well as important documentation and a thorough inventory list.
Ask the moving company for a rough delivery date of your shipped items.
Take photos of the home you are leaving, the people helping and have someone take a photo of you saying your final goodbyes when you retire abroad.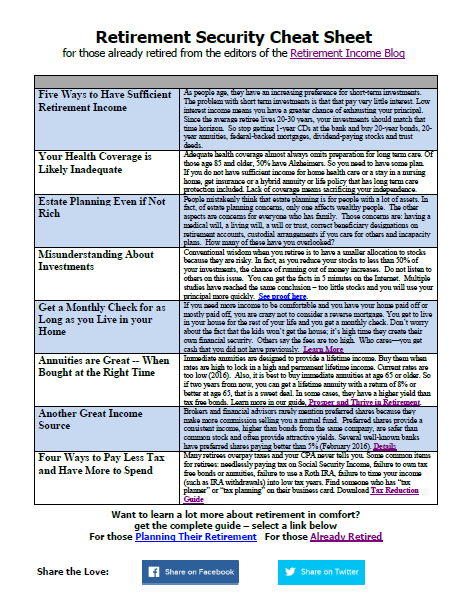 How to Prosper and Thrive In Retirement
For those already retired seeking to improve their finances
The 4 most important issues for any retiree and a quick plan to address each
The overlooked annuitization of assets to make your money go farther and reduce risk
An easy way to save money on health coverage
You don't need to be rich to plan your estate like this
A few simple lessons can reduce stress and bring more joy in your retirement year. Stop worrying and learn the simple
actions to take.