Throughout America, a colleague's retirement is almost always celebrated by hosting a party for the retiree. It is a chance for coworkers to express their thanks for all the retiree's hard work throughout the years, and to wish the retiree well on the next chapters of his life. It is also during these events that the retiree's coworkers will express their admiration and respect for the retiree in a variety of different ways, including retirement poems, speeches and gifts.
However, for as much as people may claim they're nervous about public speaking, what may be even more overwhelming is the process of choosing the right retirement poems for your company party. Here, we'll discuss a few tips and pointers to help you select the best retirement poems possible.
First, you want to think about the particular sentiment that you want to express through your retirement poems. Some people will choose humor – which is always a good way to go, and helps to keep the mood light at a retirement party. Others may be a bit more sentimental in their selection, especially if the retiree happened to be a close friend or mentor.
A good rule of thumb to abide by when choosing retirement poems for a company party is to make sure that the poem is suitable for the occasion. Humorous poems are almost always a good way to go, because they're usually light and fun in their subject matter. However, you want to make sure that you're not going to be hitting on any touchy subjects for the retiree. For example, if the retiree is sensitive about his age or particularly concerned about retirement, you may not want to make light of the situation.

In addition, you may also want to consider just how sentimental you want to be when choosing retirement poems for a company party. You want to be comfortable with the poem you're reading in front of the partygoers, or even if you are simply giving it as a gift in a frame for the retiree to take home and enjoy later.
You may also want to find or personalize a pre-written piece with the name of the retiree and his family members when choosing retirement poems for your company's party. The retiree's family will likely be in attendance, and they'd surely appreciate the recognition of their supportive role throughout the retiree's career. Just be sure to check with the family in order to have the proper spelling of names before printing your retirement poems.
Choosing retirement poems for a company party isn't usually a complicated process; though you do want to be sure you're choosing the right poem for the occasion. Remember to be sure the humor is a light and shared humor, and that you're comfortable with the poem if you're going to be reading it in front of everyone. Practice reading your poem a few times before the party, and then get ready to watch the retiree's face light up with the recognition.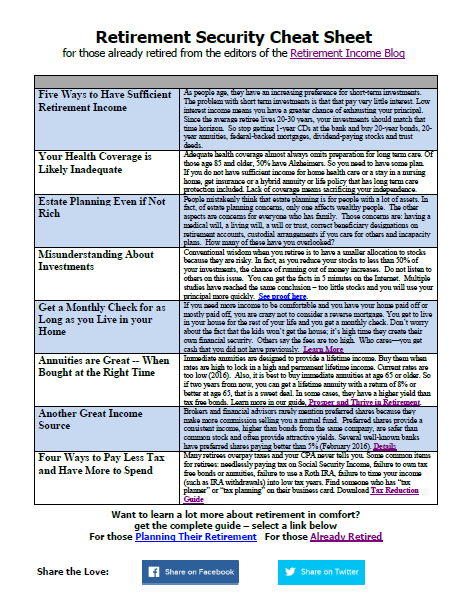 How to Prosper and Thrive In Retirement
For those already retired seeking to improve their finances
The 4 most important issues for any retiree and a quick plan to address each
The overlooked annuitization of assets to make your money go farther and reduce risk
An easy way to save money on health coverage
You don't need to be rich to plan your estate like this
A few simple lessons can reduce stress and bring more joy in your retirement year. Stop worrying and learn the simple
actions to take.