Key word is FUN if you want to throw a great retirement party.
Let's take each aspect in order.
Retirement Party Success TIP #1 : Decorate the Venue
Balloons, streamers, flowers, color on the tables (glass ware, plates, flowers) are all elements which make things festive and add to an immediate good mood for all. Your first stop is a party store. Just tell them what you want to accomplish and they will be your retirement party experts. They will also have items that you may need to rent such as chairs, tables, dishes, glasses, etc. Get inexpensive (about $10) disposable cameras and place a couple at each table so plenty of photos will get taken. This will create a great memento for the guest of ho or and help add some fun for the retirement party guests.

Retirement Party Success TIP #2 : Long cocktail hour before any food
Let's face it--people feel good when they drink alcohol. So have a 90 minute cocktail hour before any food. Include wine, beer and mixed drinks. Let people get loosened up and that significantly adds to later reports of a great retirement party. You can have some finger foods during the cocktail session.
A really nice addition during this period is to project pictures of the retiree onto a large wall. Prior to the event, get a set of pictures of your guest of honor. Scan and insert into PowerPoint or any other program that will continue to cycle and with a projector you rent and plug into your laptop, have a collage of photos of the guest of honor showing on the largest wall. You can easily add a music track. These photos can be from baby pictures to present day. (if you don't know how to work this technology, ask any 14-year-old).
Retirement Party Success TIP #3 : Have it catered
Let a professional do the hard work. If you are planning this retirement party, you have enough to look after. Hire a professional to cater the food and clean up. That way, you can make sure the guest of honor and other guests are having a roaring good time.
Retirement Party Success TIP #4 : Make it a Roast
Ask all guests to bring a story that they can tell about the retiree. These can be humorous or serious. We have included a collection of retirement jokes and one liners in this blog perfect for a retirement party roast (if you like them, please Digg them or social bookmark them). The "roast hour" should come after the meal and prior to dessert. The final speaker at the roast should be the guest of honor so make sure he/she knows they will need to say a few words about their future plans. Have someone video this part of the retirement party to create a permanent keepsake for the guest of honor.
Retirement Party Success TIP #5 : Don't have the party at the office
If you need to have an office party, then you may need to have 2 retirement parties. Attendees may be reluctant to let their hair down and have a good time with senior bosses around. So you may want t have a short and fast office retirement party and then the real shindig at a truly festive location (e.g. restaurant or banquet hall) where the bosses are not invited and the guest roster is packed with the fun people.
Retirement Party Success TIP #6 : Start planning way in advance
If you want creative ideas to flow, from your own brain as well as others, give the creativity enough time to brew. You will come up with some creative ideas just having this event on your mind. There you have it- sic great tips for the best retirement party.
See other posts that can help you through a great retirement party.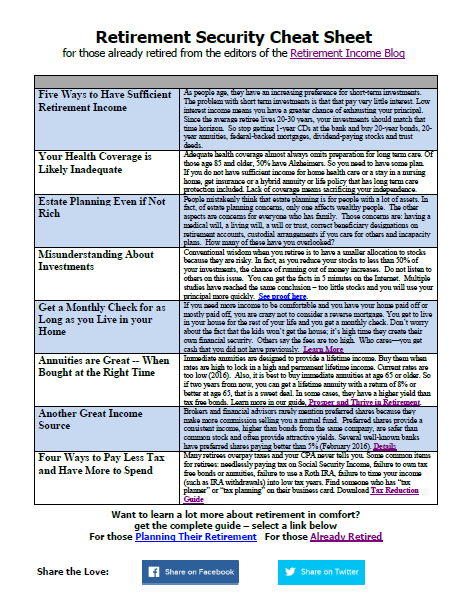 How to Prosper and Thrive In Retirement
For those already retired seeking to improve their finances
The 4 most important issues for any retiree and a quick plan to address each
The overlooked annuitization of assets to make your money go farther and reduce risk
An easy way to save money on health coverage
You don't need to be rich to plan your estate like this
A few simple lessons can reduce stress and bring more joy in your retirement year. Stop worrying and learn the simple
actions to take.