At one time, Moraira was just a pretty, sleepy fishing village on the Northern Costa Blanca. Today, it is still a fishing village, but it is also a sophisticated, scenic town with pine-covered hills, a rugged coastline and a charming town center. The town has a permanent population of about 12,000 residents, which expands to about 36,000 during the summer months.
Moraira is home to a lively community of British and Northern European expats and retirees, who own most of the properties in town. Moraira is of course also home to many Spanish residents and the town is controlled via Teulada council/town hall. The town has a lot to offer retirees including sandy beaches, a private marina, excellent restaurants and lovely villas.
So if you are thinking of buying a retirement villa in Moraira, here are five things you should consider.
Minimal Development Means Higher Property Values
In spite of the influx of new residents, Moraira is still very livable because development has been tightly controlled. Development restrictions limited the building of high-rises, so there are no buildings more than two stories high in most parts of the town. This makes Moraira a highly desirable location, and, consequently, there are not many properties on the market.

On the other hand, home prices in Moraira have not experienced the extreme loss in value suffered in other, more developed, areas of coastal Spain. Due to the controls on development, an investment in Moraira property is likely to retain its value.
Types of Properties Available
Many retirement homes in Moraira are luxurious detached villas built in traditional Spanish style, most with their own private swimming pools. Because of development restrictions, the villas are widely spaced over a large area. You can also find smaller villas, apartments and town homes to suit any budget and lifestyle.
Understand the Market
Though property values in Moraira have dropped by about 30% since the high point in 2006, prices are not as low as they are in some other areas of Spain. Inventory is low and demand is high. Although some homes remain on the market for a long time, attractive and reasonably priced homes are selling quickly. There has been a surge of interest in Spanish retirement property, and there are many eager buyers looking for good deals.
Be Realistic and Flexible
You need to be realistic when searching for villas for sale in Moraira. If you're looking for a bargain, you may need to compromise on some other factors like size, condition or location. If your price range is below 300,000 euros, you will be competing with about 90% of the other buyers out there.
The most important thing is to be flexible. If you're prepared to compromise on something - size, condition or location - you will have a much better chance of success.
EPC (Energy Performance Certificate) from 1st June
One thing to consider is from 1st June 2013 property buyers need to make sure that an EPC (Energy Performance Certificate) is presented to you with the energy rating score (graded from A to G, with A being the best). If it is not, then the contract may become void and you may have grounds to claim compensation against the owner of the property and the estate agents. Find out more about EPC on Spanish properties here.
Hire a Property Finder
The best way to learn about the Moraira property market is to work with experienced property finder like Spanish Property Sales. They are familiar with all the property on the market and can show you every home in your price range and advise you about the best options for you. An expert property finder will guide you through the process of choosing a property and negotiating a fair price. They remain impartial because they are not working for the vendor. They work for the buyer and collaborate with all estate agents (50 estate agents in this area alone!) in Moraira on behalf of the buyer ensuring maximum coverage and providing essential advice along the way. They will help you every step of the way toward realizing your Costa Blanca retirement dreams.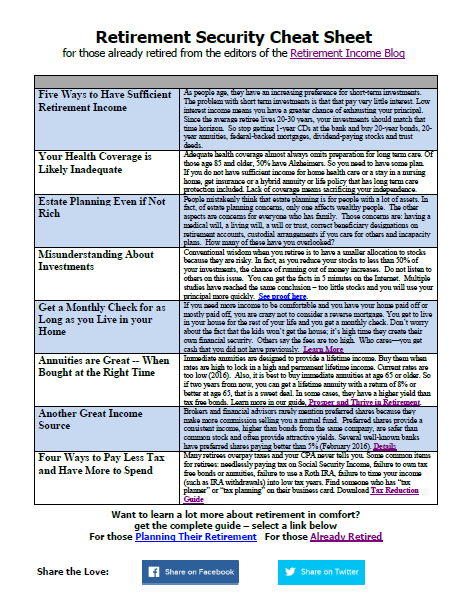 How to Prosper and Thrive In Retirement
For those already retired seeking to improve their finances
The 4 most important issues for any retiree and a quick plan to address each
The overlooked annuitization of assets to make your money go farther and reduce risk
An easy way to save money on health coverage
You don't need to be rich to plan your estate like this
A few simple lessons can reduce stress and bring more joy in your retirement year. Stop worrying and learn the simple
actions to take.