Those with stock investments, especially retirees, may worry excessively about market declines and the risk to principal. Let's remove your worry with a simple rule that has worked exceedingly well over time.
Important points to note:
Never guess that the market is starting a decline. You don't want to be fooled again and again by this pattern shown below (click on any of the graphics below to enlarge)
Know that the market increases 2/3 of the time and falls 1/3 of the time, so expecting a decline does not make mathematical sense
You will never get out at the top. You will always lose something when the market starts to decline.  The important goal is to avoid the BIG loss. If you try and avoid small losses, you will get trapped over and over in the pattern shown in the graphic below.
Rather than guess when to get out of the stock market, you can use a simple rule that has these results with timing:
This table shows the worst performing years in the market and the performance of the S&P 500. The "Timing" columns shows your results with this simple rule:
Leave the market when it falls below its 200 day moving average (10 month moving average).
How do you check the 200 day moving average?
Got to stockcharts.com To the right of "sharpchart," enter "$spx"
You will then see a chart and as long as the price is above the red line, stay in the market.
Here is the chart as of May 6, 2015
The above method for avoiding declines will leave you much better off than listening to some "expert" on TV or in the Wall Street Journal or worse, your broker.
Get additional tips to protect your retirement nest egg?-- Select from these free educational retirement guides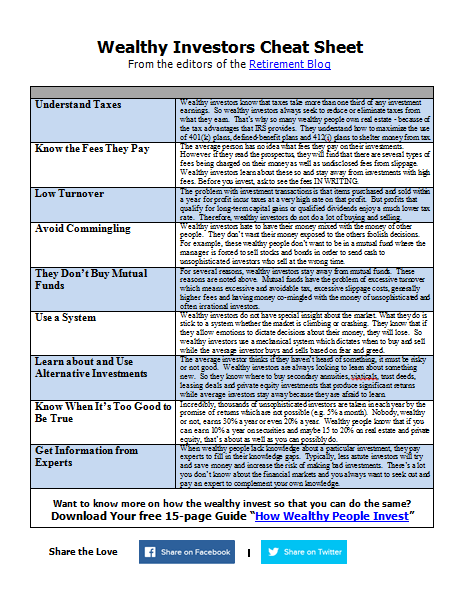 How Wealthy People Invest
To get wealthy, invest like the wealthy
Why the wealthy steer clear of mutual funds
How the rich systematically make money in the market
Key metrics that differentiate good and bad investments
A comparison of ETFs and separately managed accounts you have never seen
Stop making the same investing mistakes as everyone else who listens to CNBC and reads Money Magazine. Do what the rich do! Free guide explains how they think and make investment choices.