Receive 12 monthly issues of the SeniorFinances Newsletter. Here is a small sample of articles that have appeared:
Social Security Benefits How To Get A Bigger Check

If You Can Save In Retirement Put It Where It'll Count

Eight Ways To Generate Supplemental Retirement Income Without Special Skills
The Best Ways To Take Charge Of Your Retirement Income And Expenses
A New Type Of Trust May Be Able To Solve Many Estate Planning Problems

How To Get Income From An Old Life Insurance Policy

Refinance Your Rental Property For More Retirement Income

Annuities That Help You Qualify For Medicaid
The articles are written by financial professionals who don't
sell anything. You get unbiased information that helps you make better decisions
or judge if your current financial advisor is giving you the complete story.
No cost to you and you can stop the subscription at any time.
To subscribe, click here.
Thank you,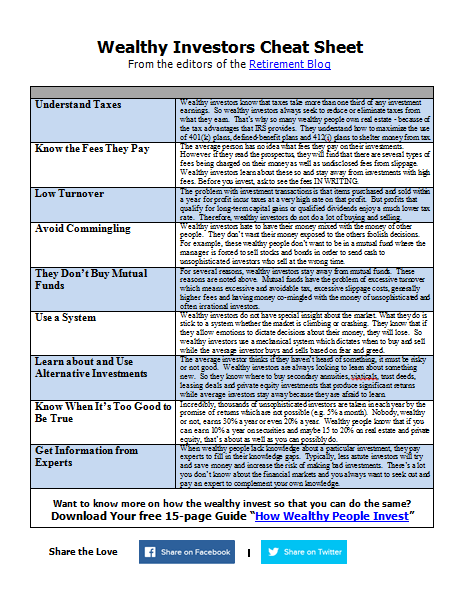 How Wealthy People Invest
To get wealthy, invest like the wealthy
Why the wealthy steer clear of mutual funds
How the rich systematically make money in the market
Key metrics that differentiate good and bad investments
A comparison of ETFs and separately managed accounts you have never seen
Stop making the same investing mistakes as everyone else who listens to CNBC and reads Money Magazine. Do what the rich do! Free guide explains how they think and make investment choices.