Maintain a Steady Keel
If you are at the outset of your retirement and are counting on your savings for income, you may be a bit disconcerted about the economy and seek some retirement planning advice. A dipping stock market and housing market, rising crude prices, and the government's refusal to make meaningful moves, make fears of another recession real and have you worried. What you do not want to do is panic – especially in your investment approach.  You need sound retirement advice.

A Panic Move
There are some who will pull all their equity investments and put them into a money market fund or CDs. They do not want to lose any of their previous years' gains or, at least, any more than they have to this point.  They plan to live off their money market interest and count the time until equities begin to rise – perhaps after declining. Unfortunately, neither they nor I know when the worst will occur. That's acting like a speculator which is only for day traders and specialists.  This is not good retirement planning advice to be short term oriented.
At 65 years old, you have an additional life expectancy of twenty one years. That gives a lot of time for inflation to undermine the dollar's value. Inflation will cut sharply into the value of your nest egg – and its yearly returns if you are completely invested in CDs and money market funds.  Better retirement planning advice is to have a long term view consistent with a 21 year life expectancy.

A Better Plan
After setting aside one year's living expenses in a money market fund, split the balance of your nest egg equally between income and stock market investments. You require those income investments to generate some of your retirement income. Choose a good income generating mutual fund or buy some bonds (more about the differences of individual bonds and bond funds in a later post). Be sure to ladder your bonds (i.e. some for 2 year maturity, some 4 years, some 6 years and so on)  so that you can take advantage of rising interest rates over the next few years as the shorter term bonds mature. Laddering will likely smooth out your bond income from interest rate gyrations that may occur.
Do your preparation on your equity investments.  Look for stocks or mutual funds that have a history of increase in good times and hold their value in bad (Fortune magazine does an annual ranking of such funds). It is your equity investments that should offset inflation to maintain the overall value of your retirement funds. Be sure to allocate your equity investments so all your eggs are not in the same basket under any economic outcome (i.e. diversify among several industries).  Note that mutual funds and stocks are open to risks, including the potential for principal loss but the best retirement advice is to maintain a long term perspective and not react to anything you see or hear on TV or what the market did this week.
Now sit tight and be frugal. Make use of savings tips to stretch your money. Be sure to re-balance your long term investments annually (so that you have half in income/bond investments and half in equities/equity funds) and maintain your '12 month' living expense fund refilled.  You'll be around for at least 2 decades after retirement so take some good retirement advice and plan your portfolio for the same long time horizon.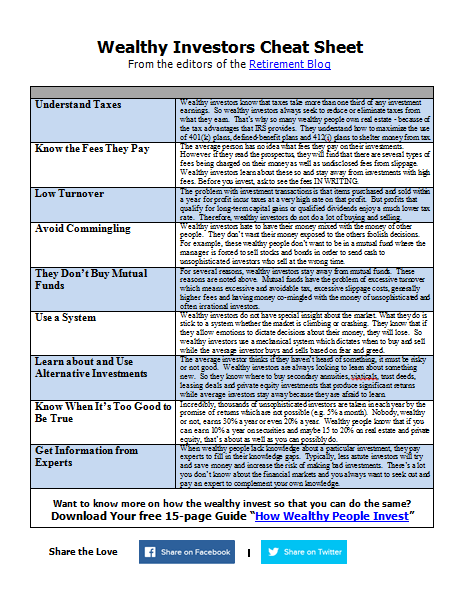 How Wealthy People Invest
To get wealthy, invest like the wealthy
Why the wealthy steer clear of mutual funds
How the rich systematically make money in the market
Key metrics that differentiate good and bad investments
A comparison of ETFs and separately managed accounts you have never seen
Stop making the same investing mistakes as everyone else who listens to CNBC and reads Money Magazine. Do what the rich do! Free guide explains how they think and make investment choices.