Thanks to the FDIC, millions of Americans are able to sleep peacefully at night, knowing that their savings are protected by government-backed insurance. Since the thirties, certificates of deposit have become synonymous with safety of principal. Bank customers who shop for CDs concern themselves only with the rates and terms that are available as CD investing is riskless within the insured amounts.  When financial planning for retirement, CD investing can be a cornerstone of those plans.
Unfortunately, the safety that comes with FDIC insurance comes with a price. Will Rogers once said, 'It's not the return on my money that concerns me, it's the return of my money.' This famous saying exemplifies the attitude of many bank customers. While CD investments are among the safest types of investments available, their rate of return is correspondingly low. If interest rates are around 4%, then that is about what you can expect a short term CD to pay. While longer term and jumbo CDs can pay slightly more, it is very difficult to see much real growth (i.e. after inflation and taxes) from them over time. CD investing is easy and safe, but doesn't often pay very well.
However, there is another option available for those seeking higher rates on their guaranteed CD investments. Unbeknownst to many CD buyers, many brokerage and investment firms offer CDs. While these brokered CDs do differ from their cousins in the banking system in some respects, they are still FDIC insured up to $250,000 per owner or beneficiary (through 12/31/2009). CD investing is easy through a brokerage because you can choose from among many banks or diversity amongst banks all on one statement. Furthermore, brokered CDs generally pay a higher rate than bank CDs, and they often contain other features, such as put or call options that allow either the buyer or the issuer to redeem the certificate prematurely without penalty. (Use the retirement calculator to see the impact of an additional 1% interest over time). For example, a brokered CD with a 20-year maturity could be 'puttable', after five years, if the buyer so desires. That means that five years from now, if rates have gone up and the buyer wishes to move the money in this CD to another one, then he or she can put the CD back to the issuing bank for return of their original principal.  But read the fine print.  The put feature is often subject to available of funds and is not a guaranteed feature.
Call features give the issuing bank a similar privilege as prior to maturity, the issuing bank can return the investors principal. CD investing can also get more complex and profitable if you want to take advantage of another's misfortune as you can buy brokered CDs on the secondary market from a person who needs the money early (and will likely need to sell to you at a discount). Note that the FDIC guarantee will only apply for investors that either hold their certificates to maturity or redeem them in a put or call transaction so if you buy a CD on the secondary market, check the quality of the issuing bank. If the certificate is sold prematurely in the secondary market, then the owner may receive more or less than his original investment, depending on market conditions. But those who hold their CDs to maturity can enjoy higher rates of income.  These long term CDs should be considered illiquid investments even though there may be liquidity possibilities.
Note that brokered CDs usually are of a longer term or have features not typical of the CD from your neighborhood bank.  Brokered CD investing may not be right for you.  Just understand all of the features to decide.
Post provided by Javelin Marketing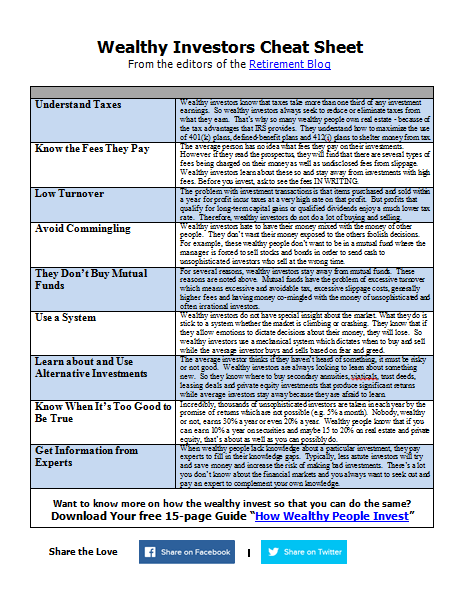 How Wealthy People Invest
To get wealthy, invest like the wealthy
Why the wealthy steer clear of mutual funds
How the rich systematically make money in the market
Key metrics that differentiate good and bad investments
A comparison of ETFs and separately managed accounts you have never seen
Stop making the same investing mistakes as everyone else who listens to CNBC and reads Money Magazine. Do what the rich do! Free guide explains how they think and make investment choices.