The government has devised a plan that will help you stay out of a nursing home and it's hard not to agree with Congress' intent. After all, who wouldn't rather receive special medical care in a community or home-based setting instead of in an institution? However, the lack of consistency among the states' rules and the qualification guidelines could make it very difficult for you to take advantage of this program, so counting on it could be a dangerous bet.
Section 1915(c) of the Social Security Act, Medicaid law authorizes States to waive certain Medicaid statutory requirements and receive federal funds to cover home and community-based services that individuals might need to avoid institutionalization. This allows States to offer additional services not otherwise available through their Medicaid programs to serve people in their own homes and communities.
These waivers cover a broad array of home-and-community-based services for targeted populations as an alternative to institutionalization. The services can include assisted living, case management, home health aide, personal care, adult day care, and respite care for individuals who are medically fragile, chronically ill, or severely disabled. And they must be obtained from qualified providers.
Every state has a Medicaid waiver program. But they are optional. Plus each state's program has different guidelines and benefits. One state may offer skilled nursing services, while another might not. Furthermore, they can decide what percentage of their Medicaid budget can go to the waiver program. The other problem is that the states can change the criteria and standards whenever they wish. So a waiver program that you might qualify for this year could be unavailable to you down the road if your state gets into financial trouble.
Another dilemma for many seniors is that to qualify for Medicaid home health care, you must be Medicaid eligible. The exact requirements vary from state to state but the average amount of countable assets that a single person can own is generally $2,000. For a married couple living together it is $3,000. Furthermore, your income cannot exceed approximately $2,898 (2013) per month. You must also be at risk of institutional placement in a nursing facility, and the cost for the alternative care cannot exceed that of nursing home care.
In theory the Medicaid Waiver Program is a good idea since it allows more diverse services, and supports individuals by waiving the need to get those same services in an institution. However with every state free to change the rules at anytime, you might not want to rely on it, especially if you want to retain your independence and social integration with your family and friends.
I always recommend investors consult with their own qualified tax and financial advisors prior to making any investment decisions. For information on a long-term care insurance policy with options that will allow you to live more independently in your own home, while receiving needed assistance, please fill out and return the enclosed coupon.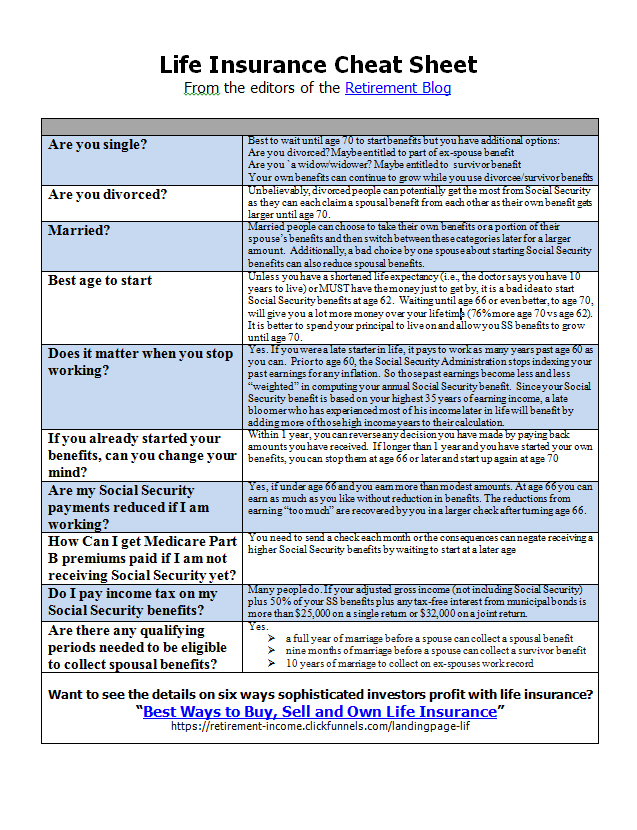 Everything You Don't Know About How to Use Life Insurance to Make Money
Five ways that wealthy people use life insurance to retain and create wealth
How to convert an existing life insurance policy into more money than the insurance company valuation
Why you never want to be the owner of a policy that insures you
A huge and common mistake when selecting a life insurance beneficiary
They don't talk about these "insider" strategies on CNBC or in Money magazine. Get the free guide to open up a new horizon of financial awareness.