if you've investigated the cost of long term care insurance, you know its expensive.  So what ate your long term care options?
There are a number of ways to potentially reduce the cost of long-term care insurance. One method for couples is to add a 'shared-care' rider. For example, instead of a lifetime benefit period for each of you, consider a five-year benefit pool that each of you can share. The savings from this long term care option could be significant.
Protection against the rising cost of long-term care expenses is certainly important, especially when you consider that for over 40 years, health costs have been going up faster than inflation. But this inflation rider can be expensive. So instead of a compound inflation rider, which increases your daily benefit more rapidly, look into raising the initial benefit slightly and buying the simple inflation rider.   Again, another long term care option to reduce your premium costs.
And what about Medicaid? True, it is meant for people who have gone through most of their money. But do you really want to spend all funds that you had planned to leave to your family? There could be a way to structure a long-term care insurance plan so that you can eventually qualify for government assistance without having to transfer assets out of your family circle.  One long term care option is to purchase a long-term care policy with a benefit period that covers the Medicaid look-back period for asset transfers (60 months). Or you could also consider using the cash payments from an immediate annuity to make the premium payments.
At the end of the look-back period, your long-term care policy's benefits will stop. And in the month after that, you would apply for Medicaid. Assuming the look-back period has expired, you could be eligible for government benefits without depleting the money you gave to your loved ones.  Medicaid is a tricky and controversial long term care option and you must include a specialist--an elder care attorney in this planning.
To know what you can afford, consult our retirement calculator.
Do not rely on prices that others pay for their long-term care insurance plans to make a decision. For example, your friends may be older, have health problems, or be in a totally different financial situation than you.  To find out what long term care insurance will cost, check the long-term care calculator.  With cost estimates in hand and to uncover all of your long term care options, talk with an experienced retirement advisor.
Note:  Long-term care insurance is subject to medical underwriting, and benefits will vary based among other things upon your age, health, and premiums. Fees and other expenses apply with the purchase of long-term care insurance, and surrender charges may be applicable on money withdrawn after the policy purchase. Insurance benefits and premiums do vary from company to company. Insurance guarantees are subject to the claims-paying ability of the issuing long term care company.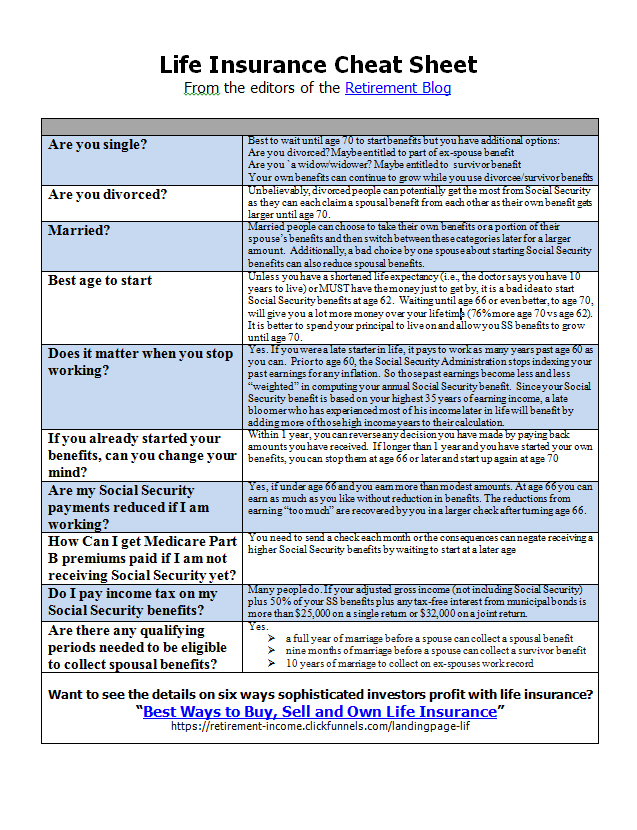 Everything You Don't Know About How to Use Life Insurance to Make Money
Five ways that wealthy people use life insurance to retain and create wealth
How to convert an existing life insurance policy into more money than the insurance company valuation
Why you never want to be the owner of a policy that insures you
A huge and common mistake when selecting a life insurance beneficiary
They don't talk about these "insider" strategies on CNBC or in Money magazine. Get the free guide to open up a new horizon of financial awareness.