With life expectancy increasing, our eventual need for long term care grows more probable. Purchasing a long term care policy is a reasonable way to deal with the high cost of LTC. But how is long term care insurance offered?
Long Term Insurance Policy Types
Three ways you can buy LTC insurance:
An individual stand-alone comprehensive policy
A group policy
A rider add on to life insurance
The first option represents the bulk of policies sold. These plans cover most long-term care services and are purchased with monthly, quarterly, semi-annual or annual premiums that are paid for the life of the insured. Options are available with policies fully paid up after 10 years or to age 65. These policies attempt to cover as many different care alternatives as possible.
You may purchase long term care coverage in an employer's group plan. These usually guarantee participation which implies no disqualifying health questions for full-time employees. As a group plan, a select set of identical benefits are offered to all employees. However, group plans often have watered-down benefits, and therefore, are not a good option for people who can qualify for individual policies.
You may purchase long term care protection as a rider to a cash value life insurance policy. The life insurance policy then represents two separate coverages and the premium is split to pay for both. Such policies may not give the level of benefits you can get from a pure long term care policy.
Tax Qualified Plan?
A critical point on long term insurance is whether the policy is "tax qualified" or not. Congress defined tax qualified policies in HIPAA (Health Insurance Portability & Accountability Act) legislation of 1996. The intent of "tax qualified" is to create an objective test for determining benefit eligibility. Tax qualified plans require a licensed health care practitioner to certify a beneficiary's eligibility to claim his insurance benefit; non-qualified plans rely on their claims people at the insurance company.
Only qualified policies allow for income tax exemption on benefits received - up to a certain limit. They also allow limited itemized deductions for LTC insurance premium payments. These deduction limits increase with your age and are especially helpful for seniors.
We recommend you choose a tax qualified LTC insurance plan for the tax benefits it offers.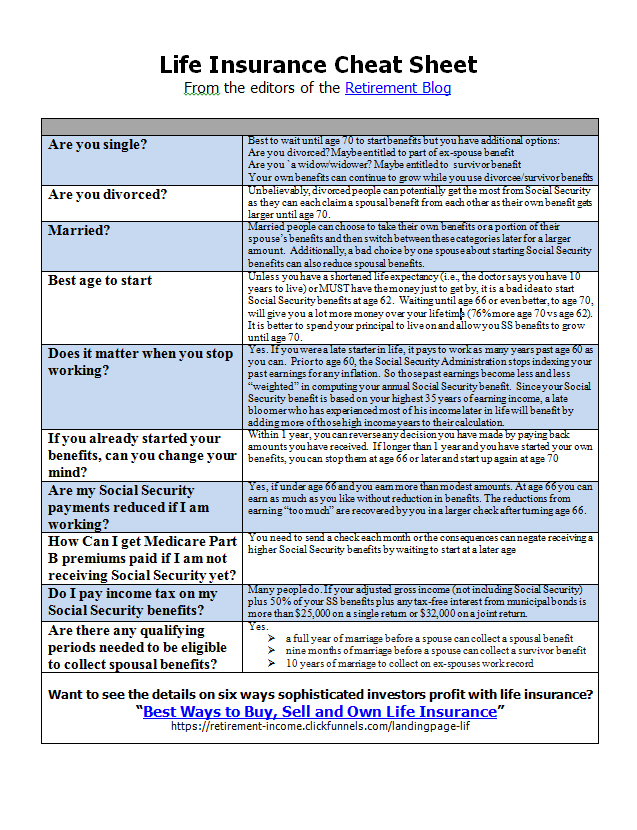 Everything You Don't Know About How to Use Life Insurance to Make Money
Five ways that wealthy people use life insurance to retain and create wealth
How to convert an existing life insurance policy into more money than the insurance company valuation
Why you never want to be the owner of a policy that insures you
A huge and common mistake when selecting a life insurance beneficiary
They don't talk about these "insider" strategies on CNBC or in Money magazine. Get the free guide to open up a new horizon of financial awareness.