Long term care insurance is necessary to cover the costs of inability to take care of yourself as you age.
Purchasing a long-term care insurance policy is a major financial decision. The cost of the coverage, and the impact it could have on your financial security makes it imperative that you understand what you're buying before you sign your name on the dotted line.
The benefits offered by various long-term care insurance policies can differ widely, as the companies providing the coverage seek to maintain both affordable premiums and profitability. As you compare policies, look for these five essential elements:
1) Does coverage include nursing home care, assisted living care, and in-home health care?
Don't assume that all long-term care insurance policies cover in-home and assisted living care. Many do, but check the policy to make sure. Given the choice, many nursing home residents would opt instead for in-home care. A long-term care policy that includes coverage for both in-home and assisted living care can make the difference between receiving care in the comfort of your own home, or moving to a nursing care facility.
2) Does the policy provide adequate coverage for the daily expenses of nursing home care and in-home care in your area?
Long-term health care costs vary widely (daily rates from under $100 to over $300) across the country. As you are evaluating different policies, you will want to ensure that the daily benefit provided by the policy will cover the typical costs for nursing home and in-home care in your area. Call me if you want to know what the average costs of nursing home and in-home healthcare are in the area.
3) Is coverage provided for both skilled and non-skilled care?
Many long-term care insurance policies cover skilled care, but non-skilled care may be a different story. Coverage for non-skilled care, which could include home healthcare aides, visiting nurses, and chore services, is important if you intend to remain in your home for any long-term medical treatment. Make sure that any nursing home or in-home care coverage provided by the policy is not limited to care administered by skilled practitioners only.
4) Is coverage provided for Alzheimer's disease and other cognitive illnesses if it develops after the policy is in effect?
The number of nursing home admissions that are a result of Alzheimer's disease and other impairments such as senile dementia that afflict older Americans is on the rise. Many long-term care insurance policies provide coverage for Alzheimer's and similar disabilities that occur after the policy is in effect, but it's a good idea to make sure such coverage is spelled out in the policy.
5) Is inflation protection included?
Inflation protection is very important. If it is not included in the policy, ask for it. Without some form of inflation protection, the cash value of the benefits provided may not adequately cover the increased costs of health care in the future. Remember, when you are buying long-term care insurance, you don't expect to need it tomorrow, and hopefully you won't need it until many years from now.
There may be other essential elements that you require in a long-term care insurance policy, depending on your individual financial situation, and your medical history. For more information just click the link below.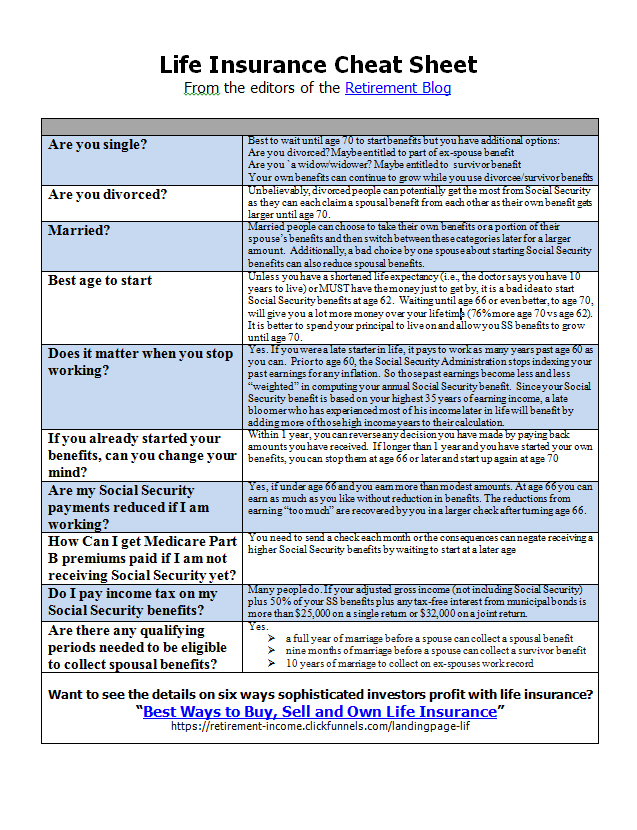 Everything You Don't Know About How to Use Life Insurance to Make Money
Five ways that wealthy people use life insurance to retain and create wealth
How to convert an existing life insurance policy into more money than the insurance company valuation
Why you never want to be the owner of a policy that insures you
A huge and common mistake when selecting a life insurance beneficiary
They don't talk about these "insider" strategies on CNBC or in Money magazine. Get the free guide to open up a new horizon of financial awareness.