You or your spouse will eventually become less able to live independently. Knowing your options for alternative living arrangements helps you evaluate your long-term care costs (LTC). Here are some options of roughly increasing LTC for you:
Living With Your Adult Children
You may move into your adult child's residence - perhaps an accessory apartment attached to it.
Home Sharing
As an older homeowner who prefers not to live alone (or who needs the income) you can rent rooms in your home to others, or share it with someone in exchange for assistance with cooking, cleaning, etc.
Foster Care
Some families will take in an older person who needs some help with daily living. This foster family provides services such as cooking meals and doing laundry. You may become a surrogate family member and receive emotional support and companionship as well as housing.
Board and Care Homes
These provide a room, meals, and help with daily activities. They are generally smaller than assisted living residences. Be aware that these homes are not always licensed. In some states, they provide some nursing services, but they are not medical facilities.
Congregate Housing/Senior Retirement Communities
If you are mobile and can take care of yourself, you can live in your own apartment in these buildings. But you share most meals in a central dining room and receive housekeeping services. They often provide a variety of social and recreational activities too.
Rental fees vary widely, and meals and other services are usually extra. Some residences receive public subsidies that keep rents down, but these often have long waiting lists and stringent income requirements.
Assisted Living Residences
These provide housing for those who cannot live independently, but do not need skilled nursing care. The level of assistance varies and may include help with bathing, dressing, meals, and housekeeping. Costs at assisted living residences vary greatly depending upon the services required.
Nursing Homes
This is an option for those who need skilled nursing care and substantial, long-term assistance. You are provided with medical and personal care and meals. Bedrooms and baths may be private (for private-pay residents) or shared. Medicare may provide brief, short-term coverage following a hospitalization. Medicaid may offer coverage to residents who meet medical and financial eligibility requirements.
Continuing Care Retirement Communities
These facilities offer a variety of housing options and services all on the same campus. They are designed to meet the changing needs of older people. A resident who starts out living independently in a separate apartment may move to an assisted living unit when he or she needs help with daily activities, and may stay periodically in the nursing unit when he or she needs ongoing skilled nursing care. Although prices vary by facility, this may not be an affordable choice for some older persons. A large entrance fee and costly additional monthly charges are common.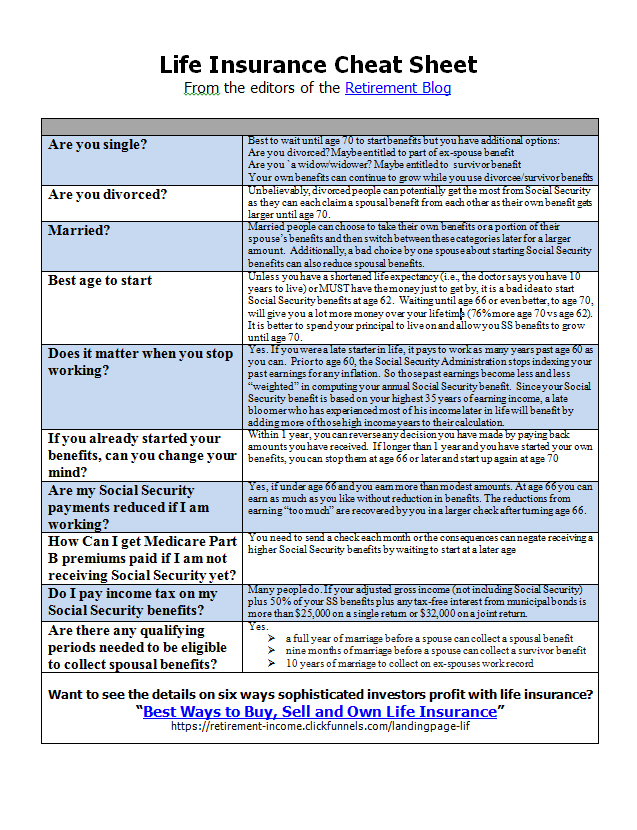 Everything You Don't Know About How to Use Life Insurance to Make Money
Five ways that wealthy people use life insurance to retain and create wealth
How to convert an existing life insurance policy into more money than the insurance company valuation
Why you never want to be the owner of a policy that insures you
A huge and common mistake when selecting a life insurance beneficiary
They don't talk about these "insider" strategies on CNBC or in Money magazine. Get the free guide to open up a new horizon of financial awareness.