Planning on retiring in the next few years? You better check out your company's policy on maintaining retiree health benefits for you during your retirement years.
Just as companies cut back on defined benefit pensions, they are leery of guaranteeing the future health care liabilities of retirees. Cutting health care benefits for future retirees can protect companies from crippling future costs to them.
One possibility to minimize a company's exposure to future health care liabilities is to set up and fund special trusts to manage employees' health costs. Such trusts can be put under the control and responsibility of a workers' union. That way investment gains and workers' own cost containment will determine whether money will be there to meet retirees' health benefits.
Telephone and utility workers could be the next wave to follow a similar approach to shore up their health care benefits in retirement. Whether such approaches will be successful is still in question, but at least the overseers needn't worry about quarterly share prices and can concentrate fully on maximizing the long-term financial health of the retiree health benefit funds.
We mentioned before that projections for retiree health costs - for a couple aged 65 - are somewhat over $215,000. Reduction of retiree health care benefits will aggravate these costs.
What can you do?
Most importantly, it is to put as much of your senior health service options in your own control.
Delay retirement until 65 to qualify for Medicare benefits.
Learn which Medicare and insurance choices best fit your needs.
Take better care of your health.
If you plan to work in retirement, look for a company that offers health benefits now and for retirees
if you can opt out of employer plan and use the funds to have an individual plan, do so
As you plan out your retirement expenses, allocate $850 to $1,000 a month on Medicare premiums, Medigap premiums, co-pays and out-of-pocket expenses. See if this alters your retirement date.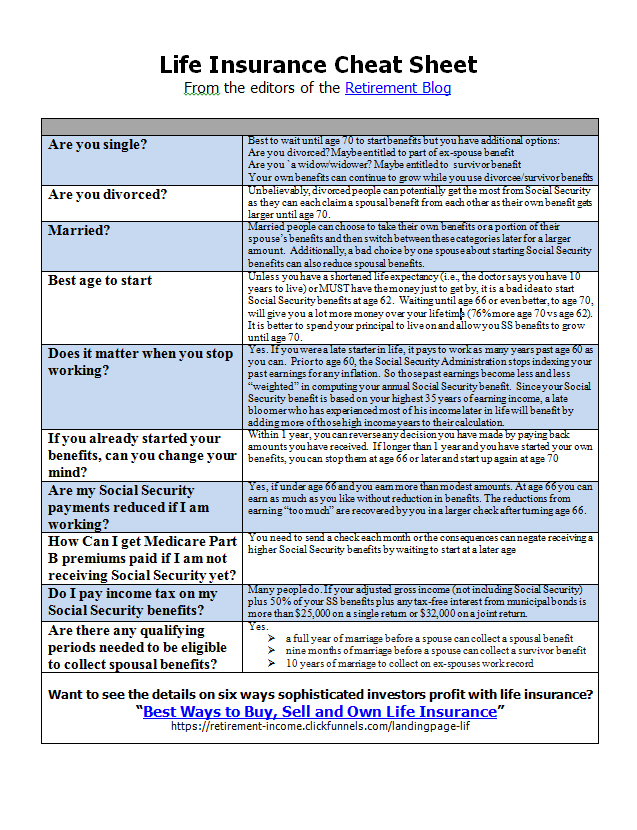 Everything You Don't Know About How to Use Life Insurance to Make Money
Five ways that wealthy people use life insurance to retain and create wealth
How to convert an existing life insurance policy into more money than the insurance company valuation
Why you never want to be the owner of a policy that insures you
A huge and common mistake when selecting a life insurance beneficiary
They don't talk about these "insider" strategies on CNBC or in Money magazine. Get the free guide to open up a new horizon of financial awareness.