Those retiring from a company with a pension plan deal with the 'Lump Sum' dilemma when retiring from their company: 'Should I take a lump sum of retirement money which I will need to invest for all or part of my retirement income - or just annuitize the lump sum (like a retirement annuity) for a lifetime monthly income and that way, I don't need to worry about investing it?' Let's consider some of the pros and cons of every alternative for this pot of retirement money.
A lump sum may come as a pension option from work, the result of your organization 401(k) savings, or a traditional pension plan and possibly as an inheritance. Your choice on how to handle retirement money has a lot to do with your psychological make-up and risk tolerance.
Directly managing earnings from the lump sum through your own investment choices vs "buying a stream of income"  represent two polar choices for retirement money. Analyzing the benefits and drawbacks of each one will help you place yourself for a possible intermediate approach.  To be clear, realize that when you have the choice of accepting $100,000 lump sum or $750 monthly for life, if you choose the latter, you have paid $100,000 to buy a stream of income for life.
Handling retirement money on y0ur own requires effort and time. You need to research and choose investments that will equally grow your money to offset inflation, minimize loss to prevent market downturns, and incorporate income producing investments which will allow month-to-month and emergency withdrawals that don't force untimely investment deficits.

You achieve these objectives by appropriately allocating your retirement money between equity and income investments, together with keeping some cash equivalents such as CDs or cash market funds. Continually re-balancing your portfolio will help you maintain your decided investment allocation.
You must keep your withdrawals low - maybe 3% to 4% in the early years - to make sure you won't eat up your retirement money too rapidly. You don't want to run out of resources in the event you encounter a serious market down turn and/or you live a long life.
The worry about running out of retirement money - or nearly so - scares a lot of individuals. That's exactly where your emotional makeup will come in and what makes an annuity always a reasonable alternative for those who don't have an "investing psychology".
Taking a fixed annuity or purchasing an annuity relieves you of investment management concerns by trading your lump sum for a fixed month-to-month payment for life. That payment may be for the life or your spouse's life too. Inflation, sadly, will deteriorate the worth of your fixed payments. Even at only a 2% inflation rate, a $2,000-a-month payment would lose a third of its purchasing power in twenty yrs. Additionally, taking an annuity limits access to your principal. That could be an issue if emergencies come up but that can also be handling by only have a portion of your funds in a life long annuity.
The table summarizes the pros and cons of each choice. You are able to always discover an intermediate technique that satisfies issues both extremes.
Manage Retirement Money or Annuitize it?

Manage Your Lump Sum
Buy a Fixed Annuity
Pros:

More potential for growth
Income assured
Can offset inflation
Lifetime payments
Withdraw at your own rate
Fixed income payments always
Cons:
Risk: Possible loss in investments
Inflation erodes payment value
Unpredictable markets
No access to principa
You can split your retirement money in 2 parts and buy a fixed annuity with half and manage the rest. Your fixed annuity permits you to be more 'growth' oriented in your portfolio to counter the lack of inflation protection from your annuity payments. You can then always later choose to convert the self-managed portfolio to an annuity too if you are tired of managing it.
Do you have a question or want more information about this issue?  Use the c0mment box below for an answer,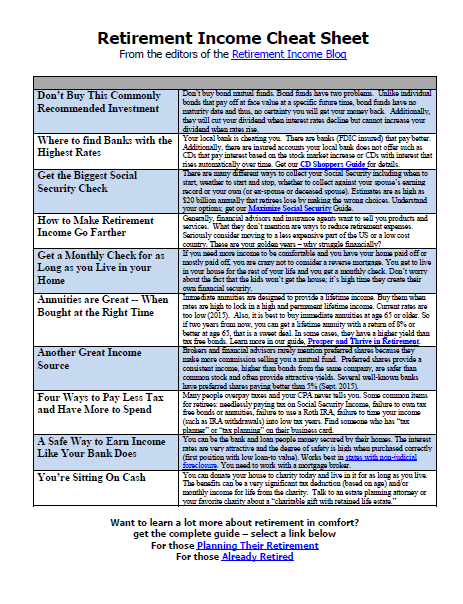 Retire Smart: a Simple Retirement Guide
How those of modest means can have an easy retirement
Three ways to get more retirement income that your financial advisor never mentions
Common mistakes to avoid that many retirees make
Four ways to protect assets that you cannot overlook
The 4-step method to planning a worry-free retirement
You now people of modest means that live a great retirement. You can too. Learn the simple lessons in our free guide.