Supplemental Retirement Income Idea #1- Are you in pretty good health?
The woman that cleans my home is almost 60.  I pay her $140 to clean my home.  It takes her about 6 hours.  If you did the same, one day per week, that's $560 per month-- more than many retirees need to bridge the gap in their retirement income needs. She has no skills whatsoever other than making things clean.  How do you get started with this?  Simply place a small ad at Craigslist.org or in your local newspaper under "services offered."  Here's one that men may like more--washing cars.  People like clean cars but it's a hassle and takes time to go to the car wash.  You go to them.  Just go to any small office complex, walk into an office and explain that you wash cars right in the lot. Charge $25 and in an 8 hour day, you can earn $200 once you have a clientele at one location.  Then you decide how many days you want to work.  No skills required for these sources of supplemental retirement income.
Supplemental Retirement Income Idea #2- Do you like numbers?
Contact your local assessor's office and find out the process to have real estate property taxes reduced. Then go into Title companies in your area and ask how to get a list of all the commercial buildings, the property owners and their contact information.  You can either mail them or call them and offer to cut their tax bill and they pay you the first year's savings. A building worth $2 million (that's a small office building) pays property tax of $25,000.  If you reduce that to $15,000 because you can show the assessor that the value has declined, you just made yourself $10,000. Another idea for numbers people is to prepare tax returns during tax season.  You can go to H&R Block (they will teach you) or contact all the local CPAs in your area.
Supplemental Retirement Income Idea #3- Do you have a college degree?
Tutor kids.  Just let the principal at the local schools know that you are a retired and patient tutor with expertise in your subject.  Find out the going rate in your area by calling the local Sylvan learning center.  Take on as many kids as you like and work just afternoons or evenings as you desire.  You can even make more by having small classes--3 or 4 students that get tutored at once.
Supplemental Retirement Income Idea #4- Do you like administrative work?
You will have a tough time finding a retirement job in this economy doing office work. But there is big demand from professionals who need a few hours a week of your time.  You can offer your services directly at Craigslist.org or on elance.com or guru.com or through your local business newspaper.  Alternatively, look up "virtual assistant" on Google and you'll see loads of businesses that are already being contacted by professionals to outsource their administrative work.  Just sign on with one of these outsourcing firms and they will get the work for you.

Supplemental Retirement Income Idea #5- Do you have carpentry or fixing skills?
Everyone needs a good handyman but most are unreliable. You can charge $25 per hour or more.  The biggest need is in the retirement communities in your area as many retirees are unable to do their own repairs due to age.  Just let the manager of the retirement community know you're available and place a little ad in their local paper and you'll get calls. If you live in an area with a lot of second homes, you can become a caretaker of these homes.  I pay a guy $350/month for up to ten hours a month to look after my 2nd home.
Supplemental Retirement Income Idea #6- Do you like to cook?
You can cook for small parties or business events at the location of your client.  You don't need to do any work in your home.  Only work at places that have a kitchen so that you can arrive early in the day with your food supplies and prepare everything on location. You can earn several hundred dollars per event.  Get started by letting everyone know you do this.  Send a letter to all the local clubs (Rotary, Lions, Garden clubs, etc) and all local businesses (get a list of local business by size from your Chamber of Commerce and list your service with the Chamber of Commerce).  Make sure to have a nice business card and discreetly place a small stack where the guests at all of your events can take your card.  In no time, your phone will ring off the hook if your food is good and prices reasonable.
Supplemental Retirement Income Idea #7- Are you Artistically Creative?
I found a woman who made gift baskets from her home.  I sent them to all of my new clients and ordered more than 10 per month.  My colleagues found out about it and they started using her also. This is a simple business to start.  Just send a mailer to professionals in your area (you can buy a list at Infousa.com) such as stockbrokers, insurance agents, CPAs, mortgage brokers, realtors, etc.  In no time, you'll be busier than you want and can expand this business as large as you like.  Or cut it off when you've reached your capacity.  You buy the items that go into the baskets and the packing supplies and then add $10 to assemble each one--that's about $40 an hour to you.
Supplemental Retirement Income Idea #8- Are you Digitally Inclined?
No one talks about it, but many professionals--attorneys, financial planners, insurance agents, etc. can't work their computer.  They lack basic skills like how to scan their photo or import a photo into a Word document or prepare an Excel spreadsheet.  Offer your service at a super reasonable $35 per call for up to an hour.  All you need to know is how to work MS Office and you can even take a class.  To promote yourself, send out mailers (you can buy a list at Infousa.com).
There you have it, eight simple ideas to earn supplemental retirement income without special skills or by selling skills you can easily learn first.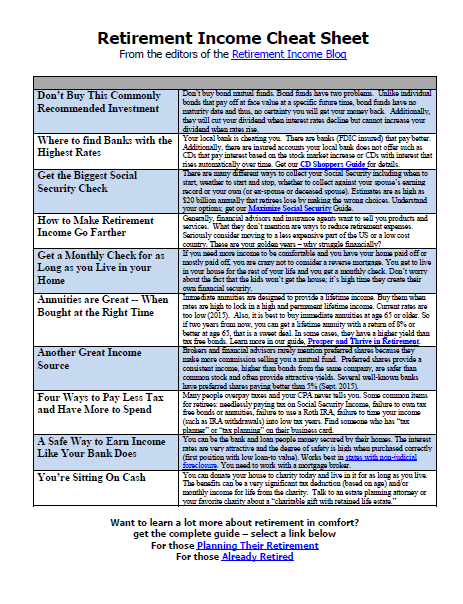 Retire Smart: a Simple Retirement Guide
How those of modest means can have an easy retirement
Three ways to get more retirement income that your financial advisor never mentions
Common mistakes to avoid that many retirees make
Four ways to protect assets that you cannot overlook
The 4-step method to planning a worry-free retirement
You now people of modest means that live a great retirement. You can too. Learn the simple lessons in our free guide.