If you are retired, you may have discovered that your current income is insufficient to meet your living expenses, especially if you have unexpected medical or funeral bills.  In many cases, either liquid assets or insurance will be sufficient to meet these needs.  But in some cases, neither of these avenues is available.  Therefore, in order to meet your financial obligations, you may need to examine an important source of equity that you have probably spent much of your life accumulating the equity in your home.  New mortgage products that are now available on the market can be an invaluable source of tax-free income for needy seniors like you.  These programs are for seniors aged 62 and older that have either paid off their homes or have very low mortgage balances.
There are two main types of reverse mortgages available to the public: federally insured reverse mortgages backed by HUD, and retail reverse mortgages backed by corporate lenders.  These mortgage products quite simply are designed to pay out a portion of your home's equity in cash.  This will either take the form of a single, lump-sum payment, a set monthly payment (that continues either for a set period of time or for as long as you own your home) or most commonly as a line of credit.  For example, say you are living on a fixed income.  Then, a health issue arises that requires monthly bills to be paid, which are not covered by your insurance.  If you have no liquid assets set-aside to cover these costs, then you could take out a reverse mortgage on your house and receive a tax-free monthly (or single) payment to match your expenses.  Of course, the amount you are eligible for will obviously depend on such factors as the value of your home, current interest rates, your age and local lending limits.  A key advantage that these programs offer is that there is no medical underwriting of any kind involved, so any medical conditions that you may have will not prevent you from qualifying.  There are also no limitations on how the proceeds from a reverse mortgage can be spent; the funds can be used for anything.  If you are looking for an additional source of funds and would like to know more about whether a reverse mortgage is right for you, you can get no obligation quites form reverse mortgage lenders in your area.
Note that as with any mortgage, there are points and other costs associated with the origination of the mortgage.  Interest rates for reverse mortgages generally are higher than traditional home mortgages and home equity loans. Additionally, fees and expenses associated with reverse mortgages are also higher than fees typically applied to traditional mortgages – sometimes as high as 4% to 8% of the mortgage loan amount. In addition, while typically there are no taxes on the proceeds of a reverse mortgage, the income or lump sum received could impact eligibility for various state and federal benefits, including Medicaid. Further, depending on the laws of a state, a reverse mortgage may not enjoy the same home-equity protection that would otherwise apply if a homeowner had a health emergency and needed to enter a nursing home. Reverse mortgages should not be used to speculate with home equity.
Before you obtain a reverse mortgage, federal rules require that you have an education session with a government appointed consultant to make sure you understand all of the terms and so that you can ask your questions to an impartial source.

prospectmatch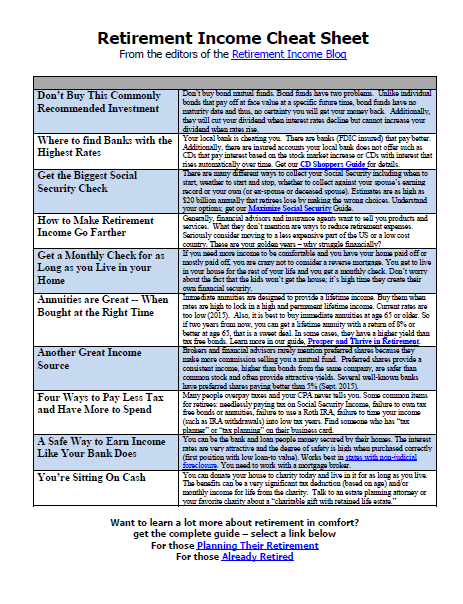 Retire Smart: a Simple Retirement Guide
How those of modest means can have an easy retirement
Three ways to get more retirement income that your financial advisor never mentions
Common mistakes to avoid that many retirees make
Four ways to protect assets that you cannot overlook
The 4-step method to planning a worry-free retirement
You now people of modest means that live a great retirement. You can too. Learn the simple lessons in our free guide.