Typically, when you see the phrase 'retirement plan services,', these are services developed for companies in helping their employees save for retirement. These services may include several as follows.
Retirement Plan Design
Management of many companies don't know if it's better to have a 401k, a profit sharing, a defined contributions plan and how to design the plan.  Management may be faced with such options as whether the retirement plan should have a vesting schedule, which employees should be included (i.e. based on age or hours worked), should there be a loan feature, etc. Retirement consultants experienced in providing retirement plan services will ask for a census of the employee population and based on age, longevity of employment, distribution of salaries, and management's objectives for having a retirement plan, will design the right plan.
Retirement Plan Administration
Administration includes maintaining records for each employee's account, preparing tax filings, holding enrollment meeting to explain the retirement plan features to employees, maintaining a staff to answer employee questions, and making changes to the plan design in reaction to changes in the tax code.  The rule of thumb is that this retirement plan service costs $25 per employee per year.
Distribution Processing
As employees retire or leave the company, distributions must be made in accordance with IRS rules.  An experienced provider or retirement plan services have systems established for efficiently helping these employees complete a IRA rollover or explain other retirement options.

ACP/ADP and Cross Testing
The Department Of Labor requires that retirement plans not discriminate in favor of highly paid employees.  Therefore, plans need to pass several tests to show that there is a uniform participation in the plan.  In such cases were the plan becomes biased in favor of the highly compensated, the company may be required to make contributions into the accounts of those with lower pay or the higher paid people may be barred from contributing to the plan (in case of a 401).  This type of compliance monitoring is a critical item on any menu of retirement plan services.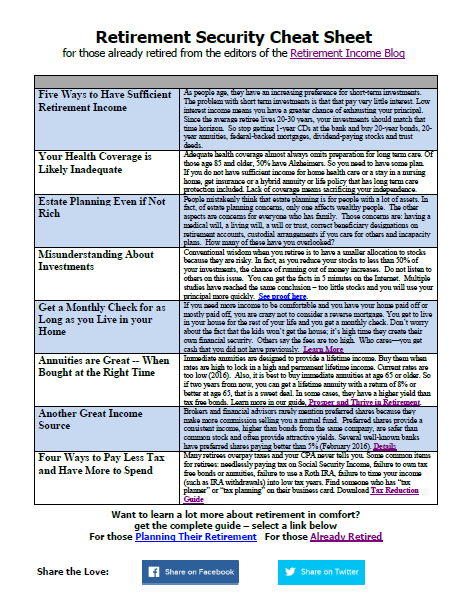 How to Prosper and Thrive In Retirement
For those already retired seeking to improve their finances
The 4 most important issues for any retiree and a quick plan to address each
The overlooked annuitization of assets to make your money go farther and reduce risk
An easy way to save money on health coverage
You don't need to be rich to plan your estate like this
A few simple lessons can reduce stress and bring more joy in your retirement year. Stop worrying and learn the simple
actions to take.