Many people are naively trusting and you may be so with your retirement advisor.  It's essential to have trust for an economy to work, but it does not mean that trust must be blind and rely on your retirement advisor's spoken word. Yet everyday we see results of this type of blind trust in the news, most commonly, all of the people who took real estate loans without reading the documents.  And then they think they are victims when the lender enforces the terms of the loan, when the lender expects the borrower to do exactly as they agreed to do.  Let's just substitute the word moron for victim.
Of course they did not go to law school.  But when someone is handed a document that obligates them financially, any person with half a wit will read it and
a. ask questions about what they don't understand and insist on clear and understandable explanations or
b. if they simply don't have the mental capacity, the educational background to understand what they read, then take the document a lawyer THEY hire and
c. if they cannot afford a lawyer to explain their obligations, then  they have no business making the transactions because it is beyond their financial means
There you have the "abc" of not getting fleeced and let's see how it applies to your retirement advisor, stockbroker or financial advisor.
Unless your advisor is a registered investment adviser (only about 10% of the investment professionals hold such a certificate), then your retirement consultant is NOT obligated to act in your interest and watch out for you.  In fact, you signed an agreement with your financial advisor that contained this language:

'Your account is a brokerage account and not an advisory account.
Our interests may not always be the same as yours.
Please ask us questions to make sure you understand your rights and our
obligations to you, including the extent of our obligations to disclose conflicts |
of interest and to act in your best interest. We are paid both by you and, sometimes,
by people who compensate us based on what you buy. Therefore, our profits, and
our salespersons' compensation, may vary by product and over time.'
In plain English, the above agreement says:
a. your broker is not obligated to look out for your best interest
b. the broker is a salesperson and makes commissions by selling you stuff
c. he is not bligated to tell you about a better deal than the one his firm offers
d. he is not obligated in any way to tell you that the securities his firm pushes, he feels are crap
e. your broker is NOT your advisor and is not oobligated to give you "good advice"
f. there are conflicts of interest between what is good for the brokerage firm and what is good for you
g. the broker is not giving you independent advice and earns different amounts by selling different products
I know your retirement advisor, the nice young man at the brokerage firm who speaks nicely, seems kind, wears nice suits, takes your calls and is very polite seems like he has nothing but your best interest at heart.  Hopefully, you are dealing with such an individual who has superior integrity.  BUT the agreement you signed with your retirement advisor and his firm says he has no duty other than to sell you whatever he can to make as much money for he and his firm within FINRA's requirements of suitability.
Be responsible.  Don't sign what you don't understand and if you do, shame on you. You're responsible for the consequences and you don't get to blame others later when you lent your trust irresponsibly without proper understanding.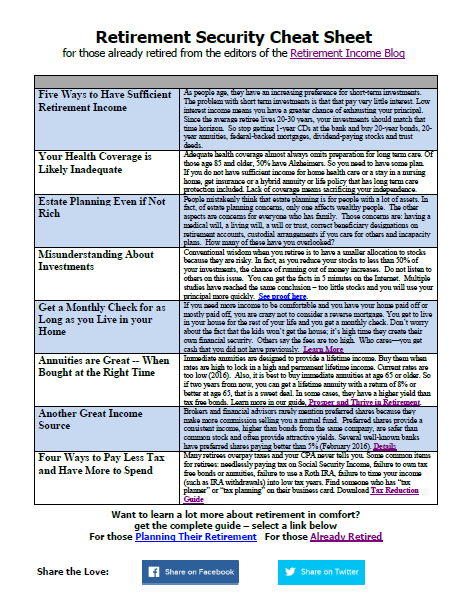 How to Prosper and Thrive In Retirement
For those already retired seeking to improve their finances
The 4 most important issues for any retiree and a quick plan to address each
The overlooked annuitization of assets to make your money go farther and reduce risk
An easy way to save money on health coverage
You don't need to be rich to plan your estate like this
A few simple lessons can reduce stress and bring more joy in your retirement year. Stop worrying and learn the simple
actions to take.