Your kids are likely far better investors than you.  The seek to learn investing on their own so as to avoid the dependence and fees of using a professional.
Young millionaires disparage the value of financial advisers per a recent study by Spectrem Group.  The study summarizes that millionaires under the age of 45 prefer self-directed investing and they believe the services of professional advisers to be over-priced.
The study polled three different age groups: age 41 to 45, 35 to 40, and under 35. The youngest group was most against using a financial advisor; 58% of respondents between ages 41 and 45 found the offerings of a financial advisor too expensive while an overwhelming 74% of those under age 35 felt advisers were over-priced.
Younger investors find the financial information they need on the Internet, according to Spectrem.  This means they are self-confident, self-taught and self-learners.  These are the traits needed for learning to invest well.

The thing that young millionaires have in common is that they are self-learners.  They know that they can easily learn investing from the Internet, magazines and books what any financial advisor can tell them.  Rather than pay someone to lose their money, these young success stories realize they can learn to invest on their own and have no one to blame for results.  And they can do so without paying fees.
They know that from the plethora investment choices, there are only two: stocks and bonds.  Every other product is just some combination or derivative of stocks and bonds with a 70-page prospectus hiding fees so that the brokerage firms can take you to the cleaners.  If you do a little reading (yes, read the prospectus), you will learn how many fees are buried in the products manufactured by Wall Street and you will realize that all of these products are simply some version of stocks or bonds.  Learning about investing is simply reading.
It's unfortunate, but of all financial advisers, brokers/wealth managers, whatever you want to call them (or they call themselves), maybe 10% to 15% can do anything of value for you.  The rest are just salesman of products they don't even understand.  They have never read the prospectus for the junk they sell or understand if it's even good for you.  If you want the best results, learn investing and take your investment education into your own hands.
Your kids have learned about investing and know that it's probably best to do their own.  A good lesson.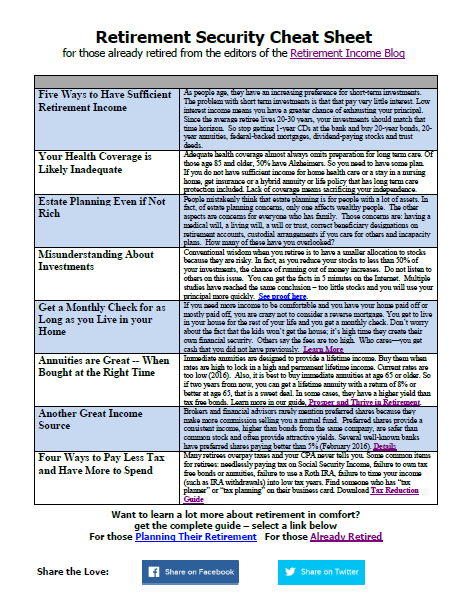 How to Prosper and Thrive In Retirement
For those already retired seeking to improve their finances
The 4 most important issues for any retiree and a quick plan to address each
The overlooked annuitization of assets to make your money go farther and reduce risk
An easy way to save money on health coverage
You don't need to be rich to plan your estate like this
A few simple lessons can reduce stress and bring more joy in your retirement year. Stop worrying and learn the simple
actions to take.