There are many providers of retirement advisory help for retirees. You first need to know what help you desire. For example, if you are a 'do-it-yourselfer', you may want to meet with a certified retirement planner once annually to review your financial circumstances just to get a professional's input. On the other hand, if you can't stand thinking about your financial affairs, you may want to find a firm offering comprehensive retirement advisory services.
Comprehensive services would include:
• Investment management
• Tax return preparation and tax minimization
• Estate Planning
• Elder Care Planning
• Bill Paying
• Conservatorship services
• Care management and long term care housing expertise
• Insurance and risk management services
A firm providing comprehensive services would manage your financial affairs from the day you retire to the grave. Of course, you can select services from the menu and buy only what you desire. So the starting point is to define your needs.
Once you know what you need, ask yourself what type of retirement advisory expertise is required. For example, if you want your tax returns prepared, does the firm have a CPA on staff. For estate and trust planning, is there an estate planning attorney and for elder care services, what backgrounds and training do the providing professionals have (e.g. are they gerontologists or experiences case managers from the nursing home field)? Is your investment manager a Certified Retirement Planner, a Chartered Financial Analyst or what is their experience in handling investments?

Next, evaluate the process by which retirement advisory services are delivered. Do you have one point of contact that coordinates your needs or is the burden on your to initiate assistance? How do the professionals in the firm coordinate their handling of your needs? Are you able to speak to some current clients and get their feedback?
Last, what are the costs? Can you pay for what you need or is there bundled fee?
Places to start your search for a firm offering retirement advisory services would be the local chapters of your Bar Association, CPA Society or Financial Planning Association.
Annuity leads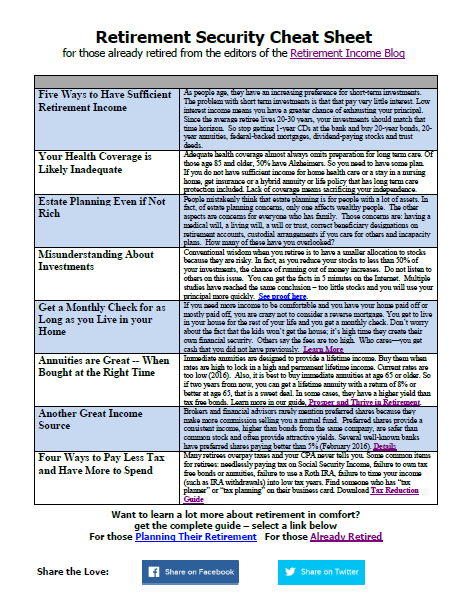 How to Prosper and Thrive In Retirement
For those already retired seeking to improve their finances
The 4 most important issues for any retiree and a quick plan to address each
The overlooked annuitization of assets to make your money go farther and reduce risk
An easy way to save money on health coverage
You don't need to be rich to plan your estate like this
A few simple lessons can reduce stress and bring more joy in your retirement year. Stop worrying and learn the simple
actions to take.