The largest retirement plan providers n the US are Fidelity, Vanguard and Schwab. These companies offerings are quite similar in that that all provide competitive investment performance, reasonable fees (Vanguard being the least expensive) and high quality products — which can all have a major impact on the amount of money you're able to build during your working years.
Features you want in a retirement plan provider:
Broad investment choice. Make sure the company offers a wide range of investment options. For example, look for a firm that has account or fund offerings in different asset classes, such as stocks, bonds, guaranteed, money market and real estate. Diversifying your retirement dollars among at least three asset classes can reduce overall volatility. All mutual fund companies will offer a broad array of fund choices.

Solid investment performance track record.
Different fund families have different strengths. Vanguard's strength is keeping costs low. Fielditiy's strength is strong equity performance. So you may want to look for a retirement plan provider that has strength in the aspect most important to you

Low fees.
Over a 20-year period, a 1% fee differential can have an almost 30% difference in the annual income from a
long-term fund investment. You can read the fund's prospectus to get full disclosure of fees and get a comparison by checking Morningstar, and independent fund rating service.
Frequent Reporting
There are still some companies that send a statement just annually. If that's sufficient for you, great. But if you would like more frequent reporting of your plan, then ask about that in advance.
Web based or phone based service
If you want to make investment changes frequently, you want to choose a retirement plan provider that has a robust web based front end so that you can fully mange your retirement account on the web. Having to rely on the phone can mean long waits on hold. Some retirement plan providers that are not yet up to speed still require changes and administration using the mail.  Those that have fully embraced the web will have web-based tools such as retirement plan calculators, a retirement income calculator, Roth IRA conversion calculators and other useful tools.
Personal Assistance
If you feel you need personal investment advice from your retirement plan provider, you may want to choose a provider that has an office in your town. That way, you can sit and talk with an advisor, attend seminars periodically held by the retirement plan provider and have a local relationship.
Financial Professionals who can help with retirement planning: ProspectMatch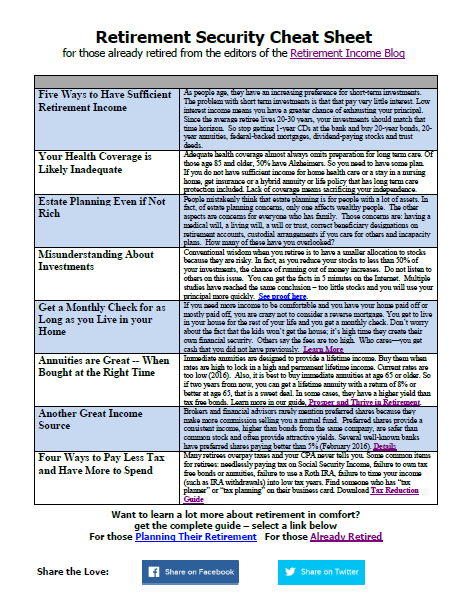 How to Prosper and Thrive In Retirement
For those already retired seeking to improve their finances
The 4 most important issues for any retiree and a quick plan to address each
The overlooked annuitization of assets to make your money go farther and reduce risk
An easy way to save money on health coverage
You don't need to be rich to plan your estate like this
A few simple lessons can reduce stress and bring more joy in your retirement year. Stop worrying and learn the simple
actions to take.