"FINRA slapped Oppenheimer with a $2.5 million fine for failing to supervise Hotton during his time at the firm, and ordered the brokerage to pay an additional $1.25 million in restitution to 22 former clients of the advisor."
You can read headlines like the above almost weekly revealing securities firms disregard for their clients. The firms will often turn the other cheek to wrongdoing of an advisor bringing in a lot of commission or simply fail to show due care for your assets.
Continually, the press contains stories of how large and supposedly reputable securities firms have stolen the funds of their clients (examples below). I use the word stolen to mean how brokerage firm lax policies or disregard for their clients has resulted in their clients losing money. As an observer of this industry, I have come to the conclusion that you must like being robbed.
Do you have accounts with any of these firms?:
Merrill Lynch
Morgan Stanley
Edward Jones
Oppenheimer
UBS
Wells Fargo Advisors
Every one of these firms has repeatedly been sanctioned (and heavily fined) by regulatory authorities for disregard of clients' accounts. The above list is not inclusive as many more names could be on the list as well as many insurance companies. Since these firms are repeat offenders, yet you continue to do businesses with them, I have come to believe that you like being robbed.

Alternatively, you may be unaware of this thievery as your account has not been affected - so you think. In fact, you may have been robbed by any of these actions at your securities firm:
Sale of products with poor structure
Sale of products with bloated commissions and/or fees
Sale of products that are inappropriate for you
Sale of products lacking disclosures
You may also be unaware of more overt cases as these large firms do a very good job or keeping these stories out of your daily newspaper and popular web sites.
So even though your account may not have been the subject of a regulatory or legal matter, you may still have paid dearly (and still pay) and not even know it. Securities firms are not required to disclose basic conflicts of interest to you or their history of regulatory fines or infractions.
In 2010, after the financial meltdown, the regulator that protects you in matters of investment dealings made a proposal that securities firms (aka broker-dealers) disclose conflicts of interest to you.
FINRA (the entity charged with protecting you in securities dealings)  proposed that broker-dealers (i.e., securities firms) provide a disclosure statement to their retail (i.e., non-institutional) customers listing the types of accounts and services available, the fees associated with each account and service, whether fees are negotiable, incentives the broker-dealers or its representatives have for recommending certain products, investment strategies or services, conflicts that the broker-dealer has with its customers, and how the broker-dealer proposes to handle those conflicts. In addition, the written disclosure would have to detail any limitations on the duties the broker-dealer owes its customers.
Almost 5 years later, this proposal has gone no where. Why? Because FINRA, supposedly your protector, is not a government entity. It is a self-regulatory authority managed by the firms it regulates. Huh? Yes, it is the fox guarding the hen house. (If you find this ridiculous and obscene--complain to your congressional representatives as they have permitted this).
Many times in this blog, I have addressed steps you can take to avoid this being ripped off by financial advisors. Until you take those steps, don't be surprised if you continue to get duped.
Examples of securities firms disregard for your money: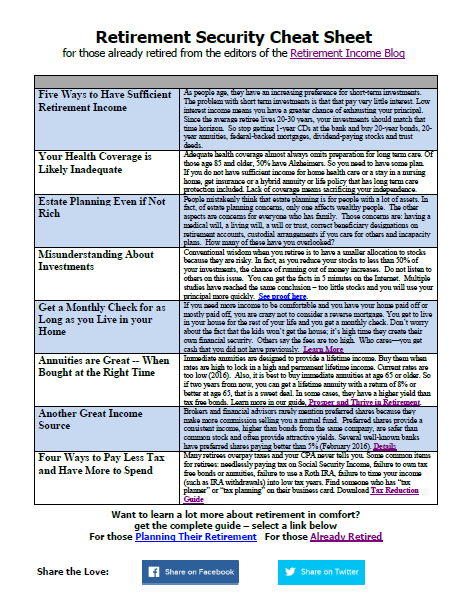 How to Prosper and Thrive In Retirement
For those already retired seeking to improve their finances
The 4 most important issues for any retiree and a quick plan to address each
The overlooked annuitization of assets to make your money go farther and reduce risk
An easy way to save money on health coverage
You don't need to be rich to plan your estate like this
A few simple lessons can reduce stress and bring more joy in your retirement year. Stop worrying and learn the simple
actions to take.