Realize first that the term "financial advisor" is a generic term  much like "retirement advisor"and can mean almost anything.  In fact, most "financial advisors" make commissions by selling products. Which means that while they may be sincerely interested in helping you, they earn nothing until you buy something.  So if you want advice and not products, that you want to engage a financial advisor and pay for their time and find a financial advisor just as you would an attorney or a CPA.
The first thing you would do to find any financial professional is to ask people you know and trust.  Ask your CPA, attorney your banker.  Be careful--are they giving you the name of a sales person or advisor?  If you want advice, then you want a fee-only financial advisor.  Some fee-only financial advisors are members of NAPFA.org and you can get local referrals from them. You can also get a referral from the local Financial Planning Association.  These referrals would be the same as using a lawyer referral service.  There is no guarantee of quality using such a referral service and while an option, may not be the ideal way to find a financial advisor.  but if you get several such referrals. you can compare.
Next, check them out on their web site.  Does their philosophy and tenor strike a cord with you?  No web site?  Then pass.  Any financial advisor without a web site is not worth considering as a professional.
After talking with people you trust, getting referrals, checking out the web sites of advisor referred, you will hopefully have a couple candidates that look like a fit.  Now, check their background--a critical step to find a financial advisor.

Ther first check is at http://www.finra.org/Investors/ToolsCalculators/BrokerCheck/index.htm.  At this site you can check their status with FINRA, the organization that licenses them to earn commissions (if they are so licensed) or their status as a registered investment adviser (a required certificate if they charge fees).
They likely also have an insurance license so locate the State Department of Insurance web site and you will find a way to check agent licenses there.
Additionally, the financial advisor may have credentials such as certified financial planner(tm), registered financial consultant, certified retirement planner, etc.   If they have credentials, you will be able to check the status of their credentials with each of the organizations that has granted the credentials as follows:
CFP(r) http://www.cfp.net/search/
CPA -- a state by state check -- look on the web for your state Board of Accountancy
ChFC - There is no complaint or disciplinary process for either the ChFC or CLU designation so there is no way to check on these folks (YIKES!)
Interview your advisor and ask the following questions:
What's your investment philosophy?
What percentage of your clients are people like me?
How do you charge?
What is your communication model--how frequently and how do we communicate?
What are your specialties?
In addition to your specialties, can you help me with (fill in issues of concern to you)
Because the relationship with a financial advisor is important, completing the above steps to find a financial advisor, while cumbersome, is worth it.  And if you do it well, you only need to do it once.
Financial advisors who seek to gain clients ProspectMatch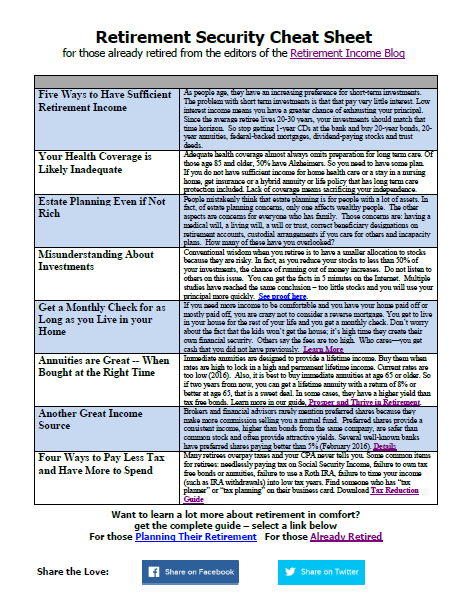 How to Prosper and Thrive In Retirement
For those already retired seeking to improve their finances
The 4 most important issues for any retiree and a quick plan to address each
The overlooked annuitization of assets to make your money go farther and reduce risk
An easy way to save money on health coverage
You don't need to be rich to plan your estate like this
A few simple lessons can reduce stress and bring more joy in your retirement year. Stop worrying and learn the simple
actions to take.