There can be no question that saving for your own retirement is a financially sound and important thing for you to do, and one of the most common and popular methods of doing this is by investing in a 401K plan at your place of work. But what you may not know is that not all 401K plans are the same.
If you are like many people in the United States, the chances are that you have had several jobs over your working life and, as a result, still have a number of 401K plans with different former employers. Or perhaps you have recently retired, but are not yet ready to cash in your 401K plan(s). Whatever your individual circumstances may be, you should be aware that your 401K plans could actually be costing you money.
Under the current laws, not only are the companies administering your 401K allowed to charge maintenance and service fees, but they are also not required to inform you what those maintenance and services fees are. Some insurance companies and stock brokerage houses are charging as much as 4% or 5% per year off the top for the plans they administer, which can significantly decrease the annual yield and value of your plan. (There are also fees and charges associated with maintaining IRA accounts, and generally there will be management or transaction fees associated with most products.)
Specific fees that are considered to be 'hidden' are:
Trading costs, commissions between fund managers and brokerage firms
Soft dollar 'excess commissions' paid to brokerages pursuant to Securities
Exchange Commission ('SEC') rule 28(e)
Sub-shareholder (participant) servicing fees - called 'sub-transfer agent fees'  ('Sub-TA')
Account distribution (sales) based 12(b)-1 fees
Account servicing based 12(b)-1 fees
Unitized variable annuity wrap fees
Variable annuity mortality costs
'On-the-fly' pass through fees
Retail versions of institutional funds (i.e. funds that could be purchased at a lower price but are not, due to fiduciary ignorance)
Some of the worst offenders of high fees are insurance companies that unconscionably offer 401k accounts wrapped in annuities.  This is a needless extra layer of fees that cannot be defended.  Yet uninformed company managers who are not competent to make a selection are often sold on this idea by talented insurance sales people.  You simply cannot trust the managers at your company to select the appropriate 401k plan provider as they are not held responsible for a bad choice.
Unfortunately, managers at many companies have signed on with 401k sponsors and simply do not understand the fees involved.  Since the fees are not paid by the company, but rather by you and the other participants, the company officers have small motivation to look hard at the fees.  In fact, a study by Spectrem Group showed that most plan sponsors don't know what they pay.
So unless you ask and thoroughly read the prospectus and make sure onerous fees are not being levied against your account, it's best to do an IRA rollover and not leave your funds in a high priced qualified plan.
In fact, some 401k plans allow for in-service withdrawals and if your plan does, get your money out now.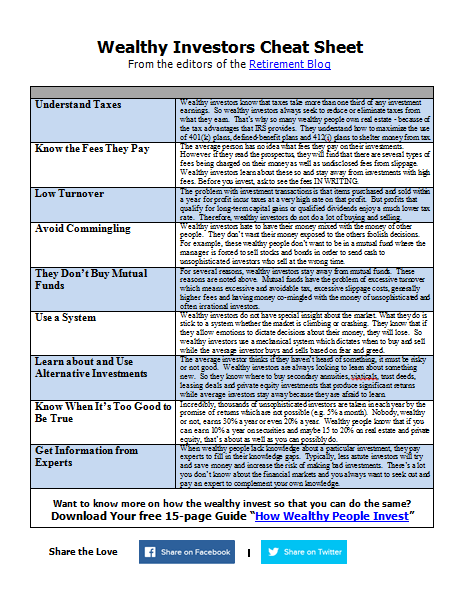 How Wealthy People Invest
To get wealthy, invest like the wealthy
Why the wealthy steer clear of mutual funds
How the rich systematically make money in the market
Key metrics that differentiate good and bad investments
A comparison of ETFs and separately managed accounts you have never seen
Stop making the same investing mistakes as everyone else who listens to CNBC and reads Money Magazine. Do what the rich do! Free guide explains how they think and make investment choices.