With people building up large amounts in IRAs and taking early retirement, people want to tap into their retirement accounts before they reach age 59½. The problem is, though, that they'll have to pay the 10% early withdrawal penalty on their IRA distributions. Fortunately, there is a way around this.
Section 72(t) of the Internal Revenue Code allows taxpayers of any age to take a series of substantially equal periodic payments without a 10% penalty.
These IRA distribution payments must continue for five years or until the IRA owner reaches 59½ years old, whichever period is longer. While they are receiving the money, they cannot make any changes to the payments. However, they can irrevocably switch one time to the RMD method (see below).
And in case IRA owners do not stay with the plan, or modify the payments in any way, they will no longer qualify for the exemption from the 10% penalty. Furthermore, the 10% penalty will be reinstated retroactively, to all prior years' IRA distributions.
Each IRA stands on it own, meaning that taking 72(t) IRA distributions from one account has no effect on the others. Therefore, if one IRA will produce more income than is needed, you could set up a smaller, segregated account to withdraw from. And in the future, if you need more income, you could begin equal distributions from another account as well. This could provide greater flexibility in meeting your immediate and future IRA distribution requirements.
There are three ways to calculate 72(t) IRA distributions and the selection gives taxpayers some flexibility.
An example of rule 72t applied:
Heather has $1 million in her IRA, is 57, and wants to retire. She'll have enough to live on once Social Security starts at age 62. However, until that time, she will need an additional $12,000 per year to meet her living expenses. The IRA is her only investment asset. But she doesn't want to pay the 10% penalty on early withdrawals for the next 2½ years. How much should Heather convert for section 72(t) IRA distributions?
The three distribution options would require that Heather commit the following amounts for Section 72(t) IRA distributions:
Minimum Distribution Method - $334,800
Fixed Amortization Method - $188,520
Fixed Annuitization Method - $189,600
Since Heather does not want to withdraw any more than necessary, segregating $188,520 and using the Fixed Amortization Method for Section 72(t) IRA distributions is the most desirable strategy. This will give her $12,000 per year for five years until her Social Security begins.
Plus she'll have the flexibility to take IRA distributions from her other IRAs without paying the 10% penalty after she turns 59 ½. And over the next 5 years, should she find she needs more income, she can segergate another IRA from her total IRA assets and place it on a 72t IRA distribution program.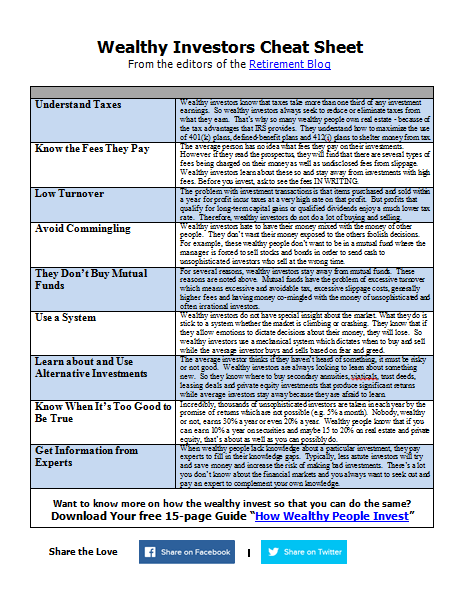 How Wealthy People Invest
To get wealthy, invest like the wealthy
Why the wealthy steer clear of mutual funds
How the rich systematically make money in the market
Key metrics that differentiate good and bad investments
A comparison of ETFs and separately managed accounts you have never seen
Stop making the same investing mistakes as everyone else who listens to CNBC and reads Money Magazine. Do what the rich do! Free guide explains how they think and make investment choices.