It's a little crazy but investors with IRA savings want to know "what do I do now that my IRA account has dropped by 40%?" Would the best time to have asked that question have been before you invested the money?  To ask what to do now is like asking how to catch the train after it left the station.  So rather than succumb to the illogic of how to deal with a contingency when you had no contingency plan, let's look at the rational way to handle your retirement savings from here on.
1. You can get all of your IRA savings out of the market and into a 2% money market fund.  This will insure that it takes a very long time to recover what you lost because at 2%, it takes 25 years to recover your loss.  Of course, the money market fund also insures that you won't lose any more.  So you must ask yourself this question: does the market have a higher probability of going to zero or to 15,000?  Does Citicorp at $5 per share have a greater chance of going to zero or to $20?  If you think that there is a greater opportunity to the upside, then the money market alternative would be foolish.
2. You can sit tight and do nothing.  This means you have the same type of risk as when you started--the risk of loss or gain.  If you were willing to accept that risk before with your IRA savings, then why not now?  Additionally, consider that you have taken the risk and experienced the negative aspect of risk--don't you need to stay in the market to experience the positive aspect of risk?
3. You can do something very irrational like invest all the money in gold because you heard some guy on CNBC says that gold is going to $2000 an ounce.  In other words, you lost money, are unhappy that you took so much risk and now want to take more risk with your retirement savings to gain it back.  Reminds me of the guy who lost everything in a card game and only had one asset left--his house.  In an effort to gain everything back he had lost, he wagered his house.  Does that seem like a crazy idea to you? If so, then you don't try to gain your money back with an "all or nothing" bet.
4. What's gone is gone.  You cannot think about "getting even."  You have what you have and the best way to think of the right action is to ask yourself this, "I have $xxxx of retirement savings.  Based on what I know about myself and my emotional stability, my view of the future and my future needs, what is the best course of action NOW (with no reference to the past)?"
Hopefully, with these distinctions laid out here you can consider them calmly and the appropriate course of action will be obvious with your retirement savings.  And by the way--remember that your retirement savings are no different than the rest of your money (other than they grow tax deferred).  So if your non-IRA savings have been sitting in a money market during the market fall, look at everything you have and maybe you're only down 10% overall and shouldn't feel so bad.
For financial professionals who can help investors with their IRA, ProspectMatch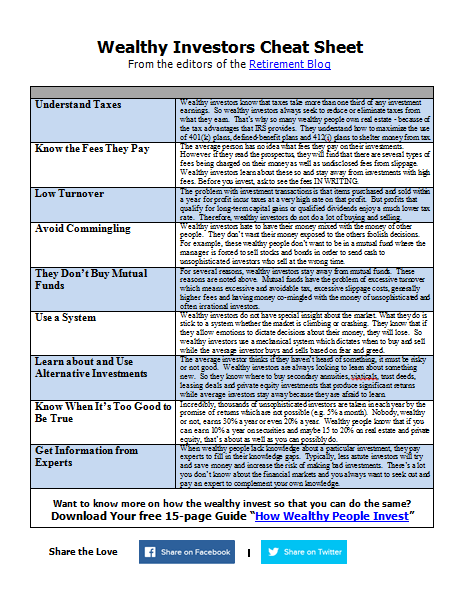 How Wealthy People Invest
To get wealthy, invest like the wealthy
Why the wealthy steer clear of mutual funds
How the rich systematically make money in the market
Key metrics that differentiate good and bad investments
A comparison of ETFs and separately managed accounts you have never seen
Stop making the same investing mistakes as everyone else who listens to CNBC and reads Money Magazine. Do what the rich do! Free guide explains how they think and make investment choices.