Many of you are somewhat familiar with the traditional Individual Retirement Account (IRA). It's a type of retirement account that you can open yourself; it's not run by your employer. For many people , it's the bedrock of their retirement plan. Whatever you contribute to it grows tax deferred until you withdraw money. Your IRA savings are taxed as ordinary income in the year you withdraw it.
For 2008, you can deduct your yearly contribution of up to $5000 if you're not covered by a retirement plan at work. If you are covered, then you can deduct this full amount if you file single (or head of household) with a modified adjusted income of $53,000 or less or file married filing jointly with income of $85,000 or less. For every $1,000 you're over these income limits, your maximum deductible IRA savings contribution is reduced by $500 for single and $250 for married taxpayers . Nondeductible contributions to your IRA savings aren't taxed when you take them out - only their earnings.
Tax-deferred compounding of your IRA svaings is the key aspect of an IRA. Deductible contributions help you to get more money in. If you're taxed at the same or lower rate when you retire then that's another plus. That's pretty much the basics. But what else might be important to know for decisions you make as you approach or begin your retirement?
What can we do to increase our IRA savings? For those of you 50 or over, be sure to contribute the extra 'the catch up' amounts of $1,000 -beyond the standard $5,000. And you can do this for your spouse too. A spousal IRA is an IRA to which a couple contributes on behalf of a nonworking spouse, even when that person earns little or no income. If your spouse is 50 or over too, she can contribute the full $6000.
You can contribute IRA savings to a traditional IRA until year before you turn 70½. This gives you a lot of time to take advantage of catch-up contributions to increase your retirement savings. When you reach 59½, you're no longer subject to a 10% penalty on withdrawals. But remember, you must begin withdrawing your IRA savings at least the minimum required distribution the year after you turn 70½.
What about bankruptcy? The new bankruptcy law says that retirement accounts are protected from creditors in a bankruptcy. It's best to consult a lawyer about your IRA savings if you do file bankruptcy and get professional retirement help.   In many states, IRA savings are protected from creditors without a bankruptcy filing.
What else can you use you IRA savings to invest in beyond the usual investments? Although not well-known, you can buy unencumbered real estate (i.e. condos, apartment buildings, single family homes, etc) directly with your IRA. Of course, you can also use your IRA to buy real estate indirectly through a corporation or a real estate investment trust (REIT). But, you can't use your IRA savings to buy your home or vacation property that you live in, or property that you use in your business. 
Get your copy in order to Maximize your IRA Savings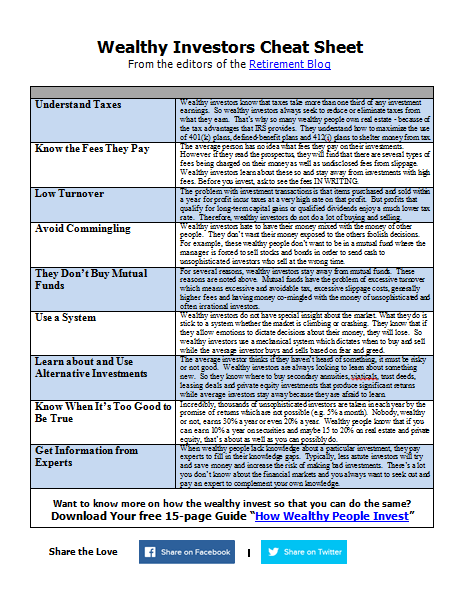 How Wealthy People Invest
To get wealthy, invest like the wealthy
Why the wealthy steer clear of mutual funds
How the rich systematically make money in the market
Key metrics that differentiate good and bad investments
A comparison of ETFs and separately managed accounts you have never seen
Stop making the same investing mistakes as everyone else who listens to CNBC and reads Money Magazine. Do what the rich do! Free guide explains how they think and make investment choices.