These plans are sometimes offered to employees of state and local governments.
Deferred retirement options plans are offered to employees who continue working past normal retirement age and want to retire rich.  In most cases, the employee would stop accruing benefits under the defined benefit plan (a plan that provides a retirement benefit based on the employee's earnings, age and tenure with the government). The deferred retirement option plan creates another retirement pot whereby the employer contributes money to the employee's retirement account separate from the defined benefit plan.  These amounts are not actuarial determined and may be a fixed annual amount.
Suppose that Sue is covered by a defined benefit retirement plan which provides that she will receive an annual benefit beginning at retirement of 3 % of average final compensation times years of service (this is a typical defined benefit formula). Suppose further that the retirement plan permits Sue to retire as early as age 60 with 30 years of service.  If Sue had average final compensation of $20,000 a year at age 60, and had achieved twenty years of service at that point, she could retire immediately with a benefit of 3% x 20 (years of service) x $20,000, = $12,000 annual retirement benefit from the defined benefit plan. If her employer offers the defined retirement option plan, she could continue working and the her employer would freeze her benefit from the defined benefit plan at $12,000 annually but also contribute $12,000 for each addiitonal year, for up to five years, that Sue works to her new plan.
That's the basic working of a defined retirement option plan but they may have other features.  For example, in some instances a COLA or a "thirteenth check" (an additional payment each year equal to one month's benefits) will be applied to the basic benefit. In some instances, the employer and/or the member will make additional contributions to the account over the period of continued employment. The methods for crediting interest vary widely: earnings may be credited at a "formula rate" (e.g. the funding rate for the plan), at a fixed rate set forth in the plan, based on an independent index (e.g., T-bill rates), at a rate which depends on the discretion of the employer or some other party, or based on actual earnings . In some instances, the member can obtain the  benefit only by foregoing the right to continued employment at the end of the defined retirement option plan period.
State and local governments offer deferred option retirement plans in order to retain valued employees past retirement age and as a way to not add additional obligations to their defined benefit plan funding burden. Because for many years defeined benefit plans were designed to get employees to retire early, they are poor mechanisms for getting employees to stay.  Thus the defined retirement option plan. Employees like the plans because it enables those employees who may have "maxed out" on the benefit payable under a defined benefit plan to continue to accrue benefits. Even for those who have not maxed out, the rate of accrual is often more favorable than continued accrual under the defined benefit arrangement. In many instances, the defined retirement option plan benefit is payable as a lump sum, while the defined benefit is available only as a lifetime annuity.
For other ideas on increasing retirement benefits, visit the retirement planning center of this site.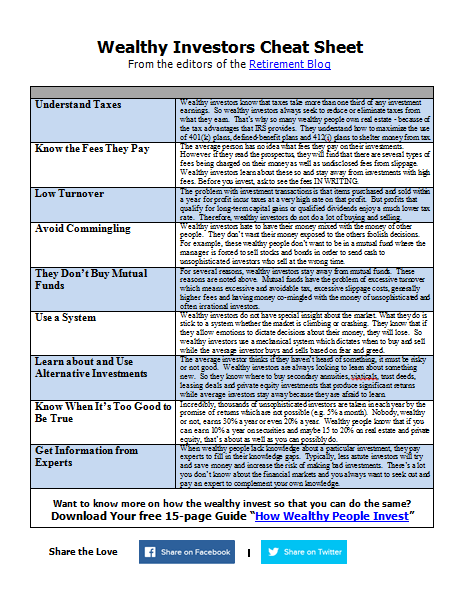 How Wealthy People Invest
To get wealthy, invest like the wealthy
Why the wealthy steer clear of mutual funds
How the rich systematically make money in the market
Key metrics that differentiate good and bad investments
A comparison of ETFs and separately managed accounts you have never seen
Stop making the same investing mistakes as everyone else who listens to CNBC and reads Money Magazine. Do what the rich do! Free guide explains how they think and make investment choices.