Deciding how to choose a company pension payout can be tricky. You need to keep open to a variety of options to see what suits you best. If you have a life insurance policy on you, here is another way to use it in retirement.
At retirement, your pension plan may present several options. You may be able to take it as a lump sum or as an annuity for life. Let's assume you are interested in taking an annuity.
If you are married, we will assume for simplicity that you need to choose between two hypothetical monthly payout options:
  Take $1,000 per month but no payments to go to your spouse when you die, or
Take $800 per month while you live, with $400 per month paid to your spouse after your death.
If you have some 20 years of life expectancy, that $200 per month can add up if you choose the higher monthly payout. What option should you take?
A possibility may be to take the higher payout and buy life insurance on you for your surviving spouse's benefit. This strategy is commonly referred to as a pension rollout or private pension. She can invest the insurance payout to generate a monthly income. She would need to have the capability to manage that investment or employ a financial advisor. While insurance companies will agree to pay a death benefit as a monthly payment, the interest rates offered are usually terrible.
If buying life insurance late in life is too costly for you, then the first option may be more reasonable if you already have a policy in force. In that case, maintain the policy for the benefit of your spouse.
On the other hand, if you do have other income and assets that can supplement your pension income, you may take the second option of a diminished monthly payment that will assure that your spouse, too, will receive payouts when you die. This will also relieve her from having to manage investment issues at such a hopefully much later time.
Whatever option you choose, nurture a trusted relationship with your son or daughter to help manage money issues when you or your spouse become too old to do it responsibly.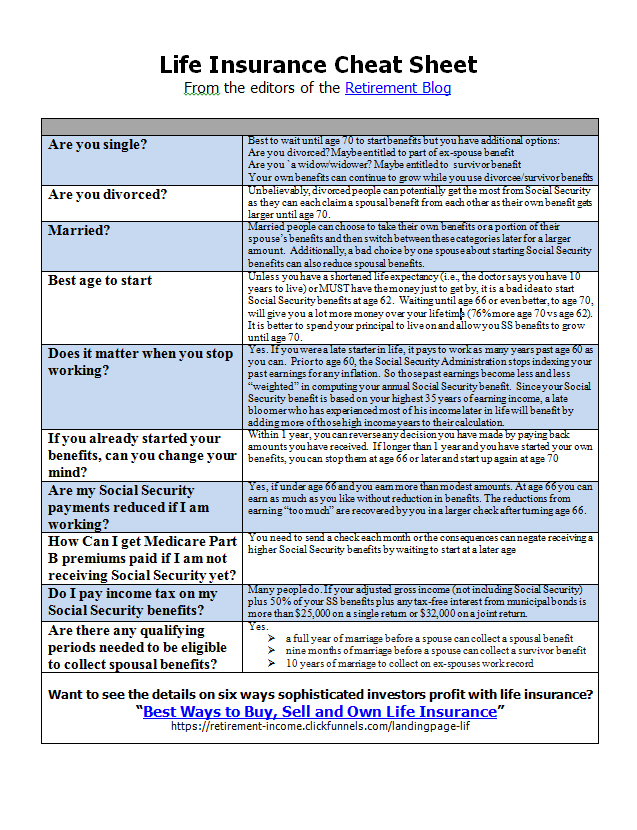 Everything You Don't Know About How to Use Life Insurance to Make Money
Five ways that wealthy people use life insurance to retain and create wealth
How to convert an existing life insurance policy into more money than the insurance company valuation
Why you never want to be the owner of a policy that insures you
A huge and common mistake when selecting a life insurance beneficiary
They don't talk about these "insider" strategies on CNBC or in Money magazine. Get the free guide to open up a new horizon of financial awareness.