Perhaps you have made your will and now you think you know where your money will go. Think again! Is there a new child, a new spouse, or was there a death in your family? If so, then take these changes into account in your will. Or what if after you pass, things as they are now change--will those heirs you selected get what you want them to have?  Will preparation requires thinking about not only today's relationships but also potential future relationships.
In addition to a change in the relationships amongst heirs that impact your will preparation, there is also State law. Your will is not the law. The probate court may override your will for various reasons –one of which is non-conformance with state law. State laws often require that a surviving spouse be entitled to a third to a half of the estate. If you have taken her or him into account, then at her or his death, a substantial amount of your estate will shift to other beneficiaries. You may wish to re-evaluate who could get your assets and be more definitive in your will preparation.
Suppose your spouse has died and you prepare a will. You leave your entire estate equally to your two children, each of whom has two children. Your beneficiaries are therefore your children and grandchildren, which the law regards as your "issue" (direct descendants). If you live long enough, there is a chance that you may outlive one of your children.
If one of your two children died, your estate distribution would depend on how you referenced their inheritance–as "per stirpes" or "per capita."  Huh?  This is where state law can determine who gets what without you even realizing the following could happen.  The following is what make specificity in will preparation so important.
If you leave an inheritance to your surviving issue per stirpes, then your children's children will divide the share their parent would have received had he or she lived. On the other hand, if you leave the inheritance per capita, then each surviving issue gets an equal share.  If you don't  specify this in your will preparation, your State law decides.
To illustrate the above example, we assume that both children were due equal shares of your estate. That would send half of your estate to the remaining child, while the other half would be equally divided by the children of the other child. That's the case for per stirpes. See figure below.
Under a distribution per capita, when one child dies, all the remaining issue equally divides the estate. The remaining issue is your surviving child and his two children, along with the two surviving children of your deceased child. That is five people and each of them receives one-fifth of the estate. That is quite a significant reduction for your sole surviving child.   Now the preparation of a simple will does not seem so simple, does it?
Lastly, if you willed an inheritance to a friend, but he predeceased you, then his wife will likely receive your bequest (again, this depends on State law which operates when your will preparation and instructions are inadequate). If your intention was that the bequest was only for the friend, then you must state in your will that he must survive you to receive it.
If there is a major change in your family structure–or in your financial circumstances too–you should revise your will immediately.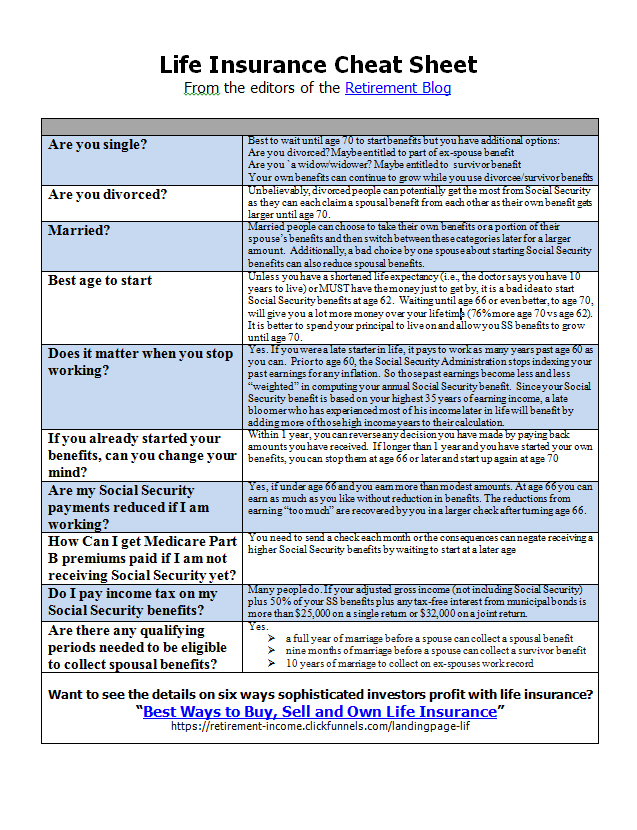 Everything You Don't Know About How to Use Life Insurance to Make Money
Five ways that wealthy people use life insurance to retain and create wealth
How to convert an existing life insurance policy into more money than the insurance company valuation
Why you never want to be the owner of a policy that insures you
A huge and common mistake when selecting a life insurance beneficiary
They don't talk about these "insider" strategies on CNBC or in Money magazine. Get the free guide to open up a new horizon of financial awareness.