A life settlement (aka senior settlement) involves selling an existing life insurance policy to a third party for more than the policy's cash surrender value, but less than the net death benefit. Life settlements involve policyholders who generally have a life expectancy of between two and ten years.
Life settlements can be a valuable source of liquidity for people. Generally they have been suitable for individuals who no longer need or want their insurance policy, and who would otherwise surrender their policies or allow them to lapse. Or they may be appropriate for people whose life insurance needs have changed in other ways. But they can have high transaction costs and unintended consequences.
How do life settlements work?
The purchasers of life settlements either hold the policies to maturity and collect the net death benefits, or resell policies to other investors. In exchange, you receive a lump sum payment. The amount you will receive depends on a range of factors, including your age, health, and the terms and conditions of your policy-but it is generally more than the policy's cash surrender value and less than the net death benefit. Be sure to take into account that receiving a cash settlement may have tax consequences for you.
Whoever buys your policy acquires a financial interest in your death. In addition to paying you a lump sum for your policy, the buyer agrees to pay any additional premiums for as long as you live. In exchange, the buyer will receive the death benefit when you die.
Realize that there is no transparent secondary market for life insurance policies. So if you are considering a life settlement, contact a licensed broker or other financial services professional familiar with such transactions.
Factors you should consider:
  If you are considering buying a new policy with the proceeds of the life settlement, you will need to determine whether you will be able to get a new policy with equivalent coverage, since your old policy will still be in effect.
  If you can get a new policy, you may have to pay higher premiums because of your age or changes in your health status.
Alternatives to a life settlement:
If it is cash you need:
  You might want to see whether you can borrow against your policy.
  If you have a long-term, catastrophic, or terminal illness, see if you are eligible for accelerated death benefits so you can receive benefits on your policy prior to dying.
If your goal is to retain coverage but lower the premiums:
you might want to consider the option of reducing your existing amount of policy coverage, or
you might want to get another policy through a "1035 Exchange." The Internal Revenue Service allows you to exchange an insurance policy that you own for a new life insurance policy insuring the same person without paying tax on the investment gains earned on your original contract-which could be a substantial benefit. Section 1035 of the Internal Revenue Code governs "1035 Exchanges."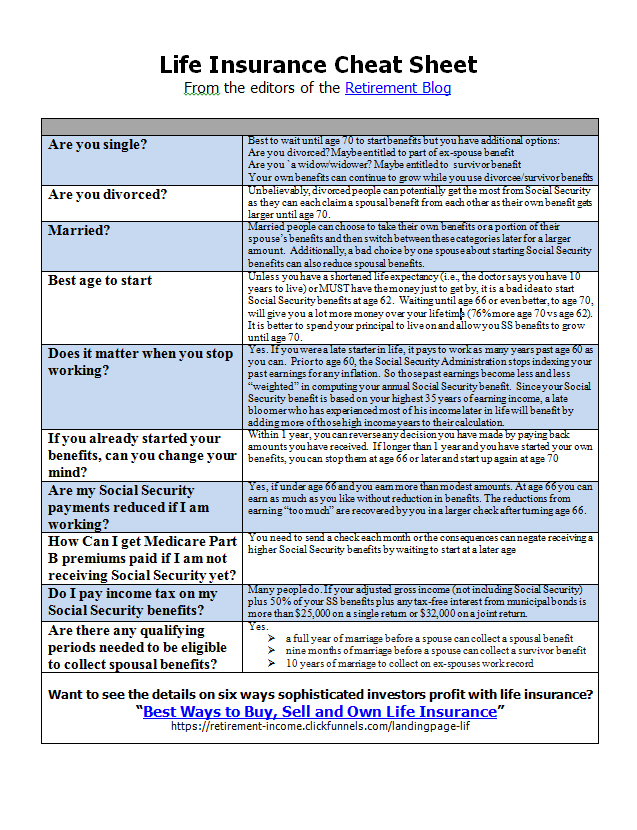 Everything You Don't Know About How to Use Life Insurance to Make Money
Five ways that wealthy people use life insurance to retain and create wealth
How to convert an existing life insurance policy into more money than the insurance company valuation
Why you never want to be the owner of a policy that insures you
A huge and common mistake when selecting a life insurance beneficiary
They don't talk about these "insider" strategies on CNBC or in Money magazine. Get the free guide to open up a new horizon of financial awareness.